Summer Chipotle Chicken Cobb Salad with Cilantro Vinaigrette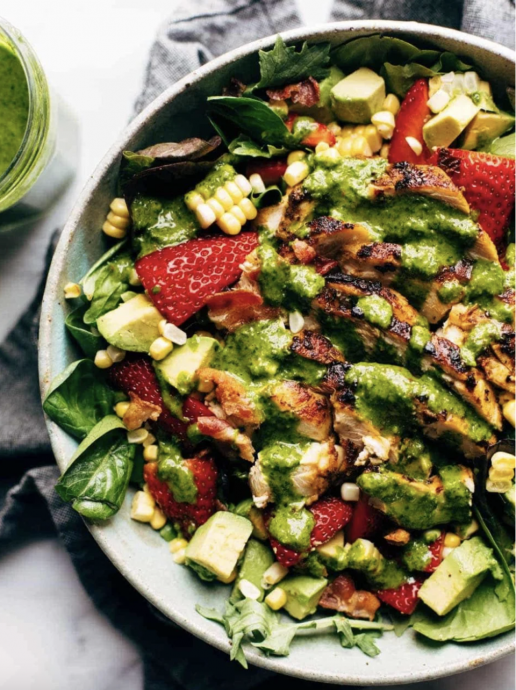 This juicy salad tastes like summer! With chipotle chicken, sweet corn, avocado, cilantro vinaigrette, bacon crumbles, and fresh strawberries for a pop of sweetness. I kinda can't believe it since here in Minnesota we were all "April Blizzard" a minute ago, but you guys, it's totally here. And I totally had it for dinner last night.
Here's what it tasted like:
juicy strawberries
crisp salty bacon
sweet green lettuce
bursts of sweet corn
creamy avocado chunks
and smoky chipotle grilled chicken! REPEAT: GRILLED!
Ingredients:
For the Chipotle Chicken:
1 tablespoon vegetable oil
2 chipotle chiles in adobo, finely chopped
1 teaspoon garlic powder
1 teaspoon cumin
1/2 teaspoon oregano
1/2 teaspoon black pepper
1/2 teaspoon salt (I added this – not in original recipe)
3–4 chicken breasts or thighs
For the Summer Cobb Salad:
3–4 cups greens (see notes)
4 strips bacon, cooked and crumbled
8–10 strawberries, quartered
2 ears corn on the cob, kernels removed
1–2 ripe avocados, sliced
salt and pepper
cilantro vinaigrette! so yummy.