Chicken Spinach Blueberry Salad with Parmesan Cheese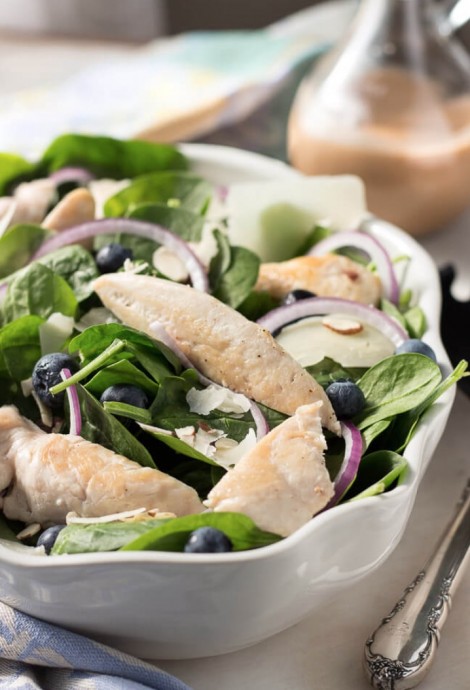 The ingredient combination in this salad is surprisingly good. The chicken can be grilled or sautéed in a pan, but rotisserie is a fast option. Spinach is a great low carb salad green and has a great texture.
I added just enough red onion to provide a slight sweet onion flavor while the blueberries add an occasional burst of spicy fruity flavor. Toasted almonds offer crunch and Parmesan cheese adds a salty-sweet-nutty component which balances nicely with the acidic dressing.
Ingredients:
Chicken Spinach Blueberry Salad
8 ounces chicken tenders or chicken breast
6 cups baby spinach (170 g)
2 slices red onion (paper thin)
2 oz fresh blueberries
1/2 ounce sliced almonds (toasted or raw)
1 ounce shaved Parmesan cheese
Balsamic Dressing
1/4 cup extra light olive oil
1 tbsp balsamic vinegar
1 tbsp red wine vinegar
1 tbsp water
2 tsp minced red onion
1/2 tsp dijon mustard
1/2 tsp low carb sugar
1/8 tsp dried thyme
1 pinch each salt and pepper