Peach Brussels Sprouts Crunch Salad with Creamy Tahini Poppy Seed Dressing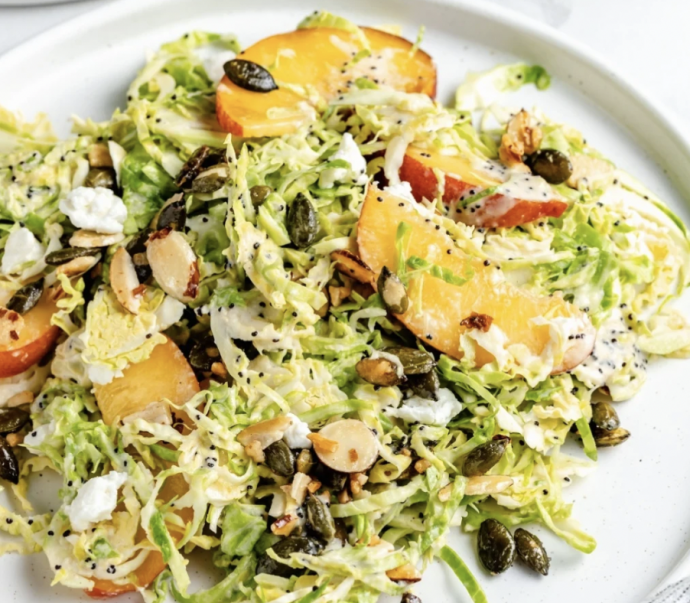 Gorgeous peach brussels sprouts salad with sweet & salty nuts and a creamy tahini poppy seed dressing. This vegetarian brussels sprouts peach salad is filled with a wonderful mix of textures and flavors. Enjoy it for the perfect summer lunch or side dish on its own or with your favorite protein!The combo in this peach brussels sprouts salad is seriously everything you need and more. I couldn't stop eating it! Honestly so perfect with chicken, salmon or even some bacon tossed in. It especially reminds me of an upgraded version of the strawberry poppyseed salad we all know and love. The perfect summer lunch to make this week or an incredible recipe to serve at your next BBQ!
We've linked some of our fav proteins to add if you want to make it a fuller meal, too, plus plenty of ways to customize and fit any dietary restrictions. Enjoy!
Ingredients:
1 batch tahini poppy seed dressing
For the salad:
1 pound brussels sprouts, outer yellow leaves and stems removed, and shredded
2 cups sliced peaches (from about 2 large or 3 medium peaches)
⅓ cup feta crumbles (optional but delicious!)
For the nut crunch mixture:
⅓ cup sliced almonds
1/4 cup raw pepitas (pumpkin seeds)
½ tablespoon pure maple syrup
Sea salt