Classic Roasted Vegetable Quiche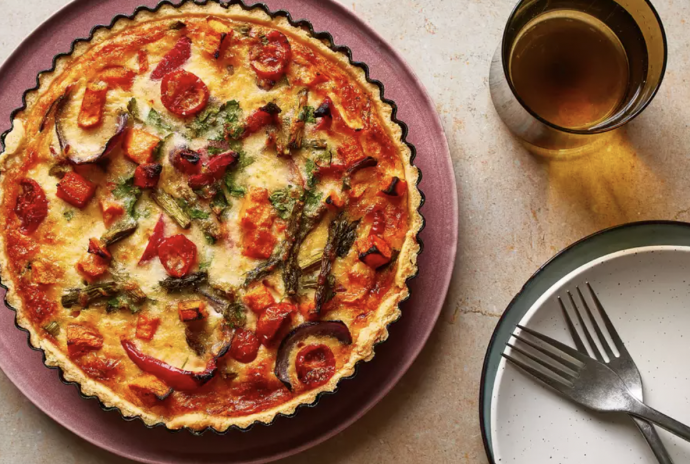 This quiche recipe is the perfect vehicle for using roasted vegetables, whether they are last night's leftovers or a means to cleaning out the fridge. The vibrant colors and flavors of this delicious quiche make it an impressive centerpiece, delicious for brunch, lunch, or even dinner.
To save time and effort, this recipe calls for frozen pastry or ready-made pie dough. The vegetables include butternut squash, peppers, onion, asparagus, and cherry tomatoes, but feel free to use what you have on hand, or what your family prefers.
Ingredients
2 (12-ounce) sheets frozen shortcrust pastry, or ready-rolled pie dough, partially thawed
For the Vegetables:
1.1 pounds (500 grams) butternut squash, peeled and cubed
1 medium red onion, quartered
1 medium red bell pepper, seeded and thickly sliced
1 bunch asparagus, trimmed and cut into 2-inch pieces
10 medium cherry tomatoes, halved
1/4 cup olive oil
Salt, to taste
Freshly ground black pepper, to taste
For the Quiche Mix:
5 large eggs
6 3/4 ounces (200 milliliters) whole milk
3 1/2 ounces (100 milliliters) heavy cream (20 percent butterfat), or half-and-half
1/3 cup grated Parmesan cheese
1/4 cup grated Gruyère cheese
1 tablespoon finely chopped flat-leaf parsley
1/2 teaspoon sea salt