Shrimp Curry Recipe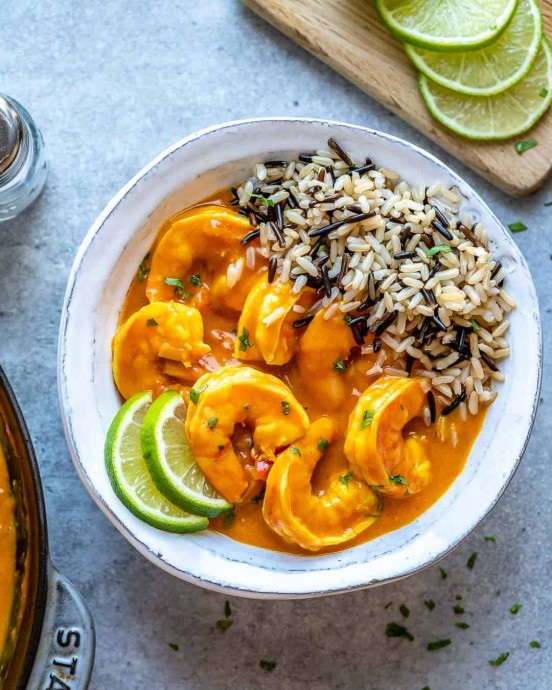 This creamy Shrimp Curry Recipe is full of flavor and so comforting! It's an easy weeknight dinner that comes together in under 30 minutes and is packed with healthy, filling ingredients. The whole family will love this delicious dinner! If you're looking for a healthy but comforting meal for dinner tonight, this Shrimp Curry Recipe will be perfect! The easy curry sauce is made with coconut milk for the perfect creamy consistency. Then the shrimp and veggies are cooked right in the sauce to make for a simple dinner that is so flavorful and delicious.
You'll love this easy shrimp curry because it's full of delicious flavors and creamy sauce. It is flavored with curry powder and other bold spices, then balanced with fresh lime juice, garlic, tomatoes, and coconut milk. The sauce is smooth and creamy, perfect for spooning over rice or quinoa. Also, it is made of healthy ingredients. Shrimp is packed with vitamins, omega-3s, and protein. This dish also has veggies and can be served over a healthy grain like brown rice or quinoa. Perfect one-skillet dinner for the whole family. Everything can be made in one skillet in under 30 minutes. Serve with lime wedges and cooked rice if desired.
Ingredients:
1 ½ pounds shrimp peeled and deveined
kosher salt & ground pepper to taste
1 lime juiced and zested
1 tablespoon olive oil
2 shallots finely chopped
1 red bell pepper sliced
1 teaspoon fresh ginger grated on a microplane
3 cloves garlic minced
1 ½ teaspoons curry powder
⅛ teaspoon chili flakes or to taste
½ teaspoon ground cumin
1 teaspoon turmeric
14.5 ounces diced tomatoes one can
14 ounces coconut milk one can
1 tablespoon cornstarch
small bunch of cilantro chopped to garnish.