Zucchini Casserole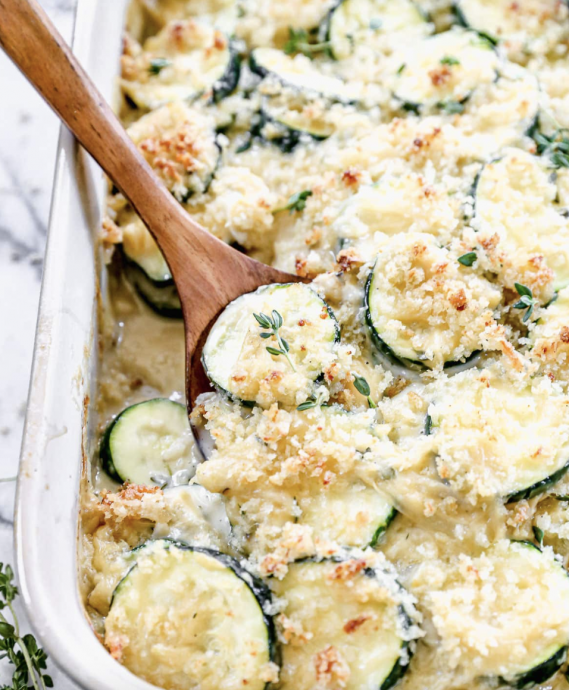 When zucchini supply runs high and zucchini motivation runs low, make a pan of this comforting Zucchini Casserole!
A comforting (but not coma-inducing) baked casserole of thinly sliced zucchini tossed in a creamy garlic sauce, then baked beneath a crown of golden, crispy breadcrumbs, easy, cheesy zucchini casserole gives a vegetable we usually think of as a straightforward side dish (Easy Sautéed Zucchini with Parmesan) the star holiday treatment usually reserved for Healthy Green Bean Casserole.
The sauce is herby and creamy, but light enough to where it doesn't feel heavy on a hot summer night.
The buttery panko topping adds pleasing textural contrast. For an extra crispy zucchini casserole, place it under the broiler for an additional minute.
It uses a full two pounds of zucchini, making zucchini casserole an excellent thing to do with the extra zucchini you will inevitably have around this summer.
Ingredients:
2 pounds small/medium zucchini about 4 or 5 zucchini
3/4 teaspoon kosher salt divided
1 medium yellow onion
3 tablespoons unsalted butter divided
1/4 teaspoon ground black pepper
4 cloves garlic minced (about 4 teaspoons)
1/4 cup all-purpose flour
1 cup low-sodium chicken or vegetable broth
1/3 cup milk (I used 1%)
1/2 cup whole milk plain Greek yogurt about 1, 5-ounce container
3/4 cup shredded sharp cheddar cheese
4 tablespoons finely grated Parmesan divided
2 teaspoons chopped fresh thyme leaves or 1/2 teaspoon dried thyme
1/2 cup Panko breadcrumbs divided
fresh herbs for serving like fresh parsley or basil, optional