5-Ingredient Peppermint Patties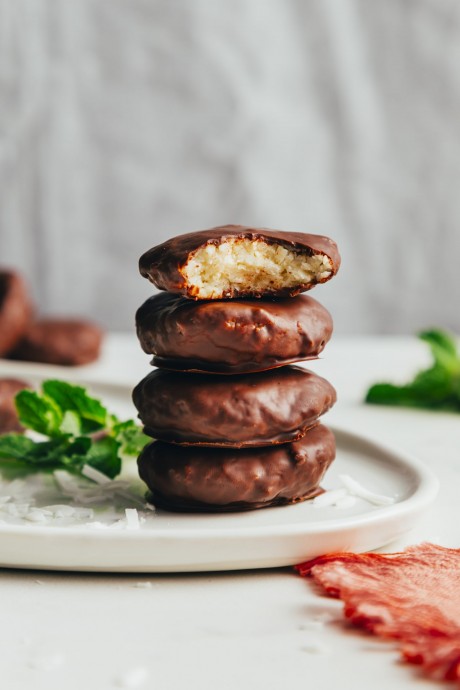 The base for these peppermint patties is shredded coconut. It's perfect because it's rich, packed with fiber, and achieves a dough-like consistency when blended up in a food processor. Just be careful not to over-blend or you'll have coconut butter! To the coconut, we add maple syrup for sweetness and peppermint extract for minty flavor. Melted coconut oil and maple syrup also help with binding the patties so they're easier to form into discs. Then the discs go in the freezer to firm up before dipping in melted dark chocolate (swoon!). Back in the freezer just once more to set, and we're ready for dessert!
You will love these homemade peppermint patties! They're minty, chocolaty, quick & easy, portable, gift-able, & so delicious! They're the perfect snack or healthier dessert for the holidays and beyond! We like storing them in the fridge and enjoying any time a chocolate craving strikes. Cool and minty with an intensely dark chocolate coating, these plant-based beauties are insanely delicious. Serve as a refreshing after-dinner dessert or enjoy as a snack — either way, you can't go wrong!
Ingredients:
3 cups shredded unsweetened coconut
2 Tbsp maple syrup
1/2 – 3/4 tsp peppermint extract (for best quality, use food grade peppermint oil)
2 tsp coconut oil, divided
1 cup vegan dark chocolate, chopped