Vanilla Red Berry Rhubarb Hand Pies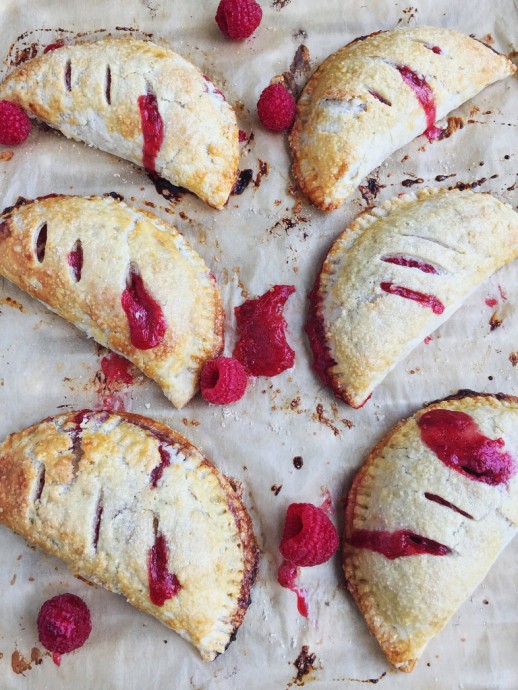 Tart rhubarb, bright citrus, vanilla bean, and fresh strawberries and raspberries compose these delectable all-butter crust Red Berry Rhubarb Hand Pies. For this recipe you'll just need some fresh, gorgeous rhubarb, some fresh berries, and citrus. And just a little bit of sugar, with honey and vanilla bean providing the majority of the sweetness. And with the all-butter pie crust forming the base, these were gobbled right up. Hand pies are so great for several reasons. You don't need any fancy pans. They're perfectly portable, and there's no cutting involved. And they're just so adorable.
Although hand pies can be fairly time consuming, I make things simpler and stress-free by making both the pie dough and the filling the night before. This ensures everything is perfectly chilled and ready for the making. If you don't have a round 5″ cutter, don't even sweat it. You can use a pot lid or even a bowl. You could also cut them into rectangles instead. I'm confident you guys are going to love these sweet, tart, tasty little red berry rhubarb hand pies. Enjoy!
Ingredients:
FOR THE PIE CRUST
2 1/2 cups all-purpose flour
1/2 teaspoon salt
1 tablespoon sugar
2 sticks cubed butter, very cold
6–8 tablespoons of ice water
FOR THE PIE FILLING
1 tablespoon butter
1 pound rhubarb (about 5 stalks)
6 ounces raspberries
1 pound strawberries
1/2 cup sugar
2 tablespoons honey
1 orange, zested and juiced
1 vanilla bean
2 tablespoons cornstarch
Egg wash
Raw sugar, for sprinkling