Rainbow Crunch Salad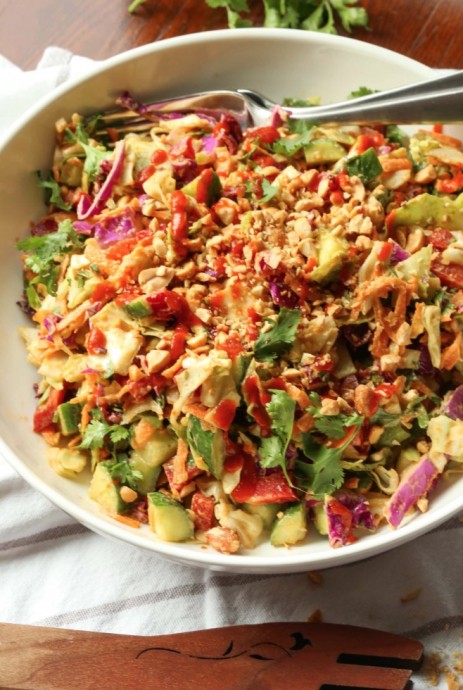 Eat the rainbow with this beautiful, Thai-style Rainbow Crunch Salad tossed in deliciously spicy peanut dressing! This healthy cabbage salad is an easy salad recipe to serve at summer cookouts, or as a hearty lunch idea!
I'll tell you right now, prepare to be obsessed with the flavors of this delicious Thai-style cabbage salad! It's a literal rainbow of deliciousness and color. This is my favorite recipe for cabbage salad made with a rainbow of crisp veggies, all tossed in a creamy peanut dressing. For easy weekday lunches to summer cookouts and Asian-inspired dinners – there aren't many occasions where this vibrant crunchy salad isn't just the best. AND I make this salad at the beginning of the week and eat it for lunch for the next few days! The hearty cabbage doesn't wilt in the dressing and stays crunchy for days!
Ingredients:
Salad:
6 cups green cabbage, chopped
3 cups purple cabbage, chopped
2 cup grated carrots
2/3 cup chopped green onion
3 cups chopped seedless cucumbers
2 cup chopped red bell pepper
1 1/2 cup chopped cilantro
1/2 cup chopped dry roasted peanuts
Peanut Dressing:
3 tablespoons soy sauce
1/2 cup peanut butter
2 teaspoons sriracha
3 tablespoons rice vinegar
1 tablespoon lime juice
2 teaspoons sesame oil
1 tablespoon honey
1 teaspoon fresh minced ginger
1 teaspoon garlic powder