Greek Burgers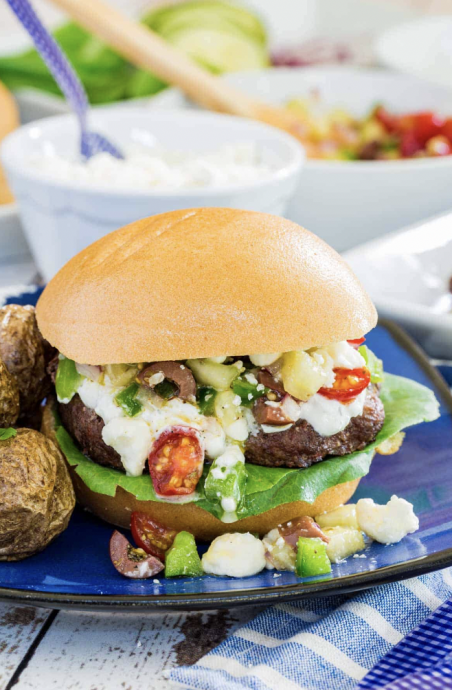 Bursting with fresh Mediterranean flavors, these easy Greek Burgers are the ultimate burger recipe to make this summer. Mix together some simple toppings, grill your burgers to juicy perfection, then pile it all on a bun for a quick weeknight dinner or fun meal to enjoy with friends.
There isn't much I love more in the summer than a nice, juicy burger fresh off the grill. Sometimes I keep it simple, topping my burger with nothing more than a slice of melty cheese and some crisp lettuce. But other times I want to change it up and add a little something extra.
Simple and delicious BUBBA burgers are the perfect blank slate for making an epic protein-packed summer meal. So as long as you have a gluten free bun, choose lettuce wraps, or just dig in with a fork and knife, you can enjoy gluten free burgers without any fuss.
Plus they go from frozen to hot and delicious in just about 10 minutes on the grill, or even in the skillet when it's not grilling weather. That means you have plenty of time to get creative with your toppings.
Like these easy Greek burgers!
Ingredients:
Ingredients
For the burgers:
6 burgers (one 32 oz. package)
lettuce
6 burger buns (gluten free, if needed)
¾ cup tzatziki sauce
Greek salad topping (see below)
1 cup (4 oz.) crumbled feta cheese
For the Greek salad topping:
1/2 cup quartered grape or cherry tomatoes
1/4 cup kalamata olives, pitted and cut into quarters
one-quarter of a cucumber, peeled and diced into about ¼-inch pieces
half of a bell pepper, diced into about ¼-inch pieces
1 Tablespoon diced red onion
1 Tablespoon olive oil
1 Tablespoon fresh lemon juice
¼ teaspoon dried oregano
⅛ teaspoon garlic powder
salt and pepper, to taste