Ridiculously Easy Homemade Salsa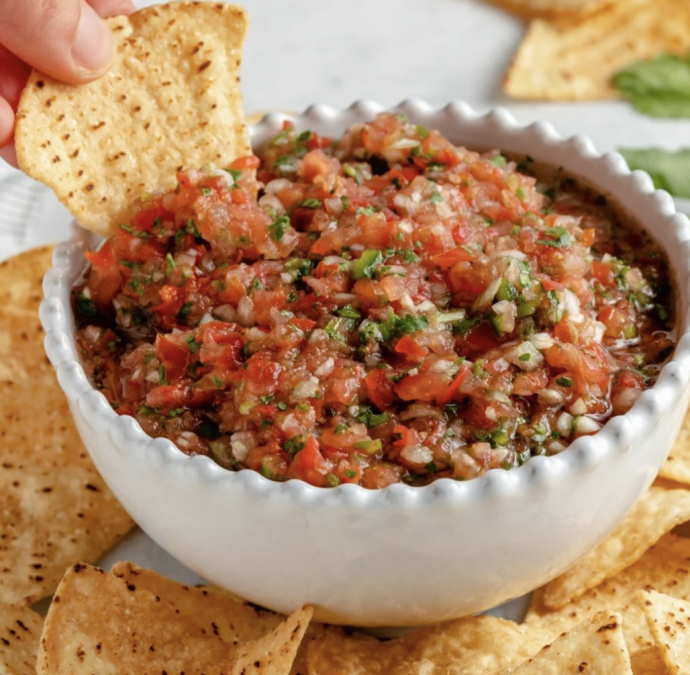 Tony's ridiculously easy homemade salsa recipe with fresh tomatoes and a kick of heat from jalapeño. This homemade salsa is bursting with flavor and comes together right in your blender or food processor! Make it chunky or smooth and serve it with chips, on nachos, in burritos and more. We love pairing grilled main dishes with plenty of apps and sides, and Tony's famous homemade salsa is our go-to all summer long. He started perfecting this recipe a couple of years back and we seriously can't get enough! It's made with all fresh produce like tomatoes, onion, cilantro and jalapeño, and you can literally pair it with anything your heart desires. Tony makes a big batch and we, of course, gobble it up with tortilla chips, but love it with nachos, grain bowls and even scrambled eggs in the morning. THE BEST.
While I'm a big fan of fruit salsas like my famous avocado peach salsa, there's something about a fresh tomato salsa that's just so addicting.
Whip up a batch, double or triple it for a crowd, and enjoy all summer long!
Ingredients:
1 1/2 pounds tomatoes (vine-ripe, roma or heirloom), cored and quartered -- I like Roma best for texture
1/2 medium yellow onion, roughly chopped
1 green onion, ends trimmed
2-3 cloves of garlic, finely chopped
2 jalapeños (with seeds If you like heat!), diced
1 heaping handful of cilantro (about 1/2 cup)
Half a lime, juiced
Pinch of cumin
Pinch of sugar
Salt, to taste