Apple & Carrot "Superhero" Muffins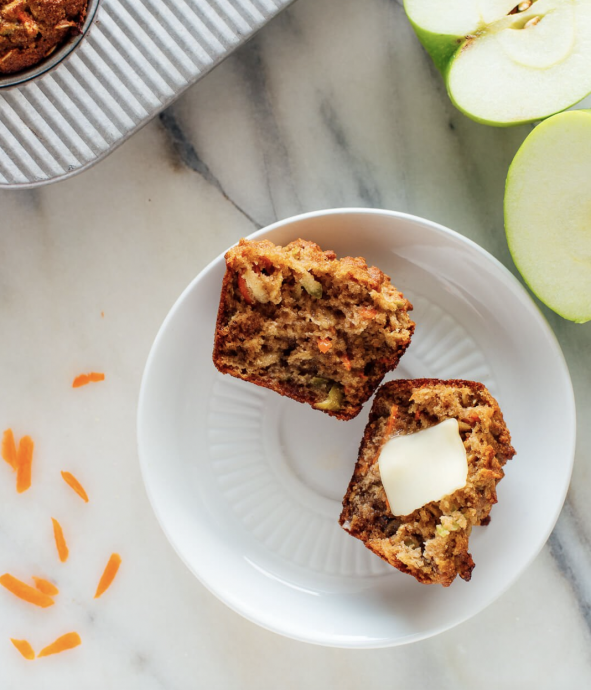 In the mood for some fall baking? Me, too! I'm cozying up with these apple carrot muffins and a cup of coffee. My dog, Cookie, is hoping for some crumbs.
The authors call these muffins "superhero" muffins because they are muffins that sustain. They offered three versions in the book, and I chose the muffins featuring grated fresh carrots and Granny Smith apples.
These muffins are very hearty and wholesome, which makes them perfect grab-and-go breakfasts or snacks. I think they would freeze well for several months, if you want to keep them on hand for hangry moments.
Bonus? These muffins are gluten free and naturally sweetened, and easy to mix up by hand. Apple carrot muffins for the win.
Ingredients:
2 cups packed almond meal or almond flour (10 ounces)
1 ½ cups old-fashioned oats (certified gluten free if necessary)
2 teaspoons ground cinnamon
1 teaspoon baking soda
½ teaspoon fine sea salt
Optional mix-ins: ½ cup chopped walnuts (I used pecans), or raisins or chocolate chips
½ cup honey or maple syrup
3 eggs
6 tablespoons unsalted butter, melted
1 cup grated Granny Smith apple (about 1 ½ apples)
1 cup peeled and grated carrots (about 3 carrots)