Chickpea Salad Sandwich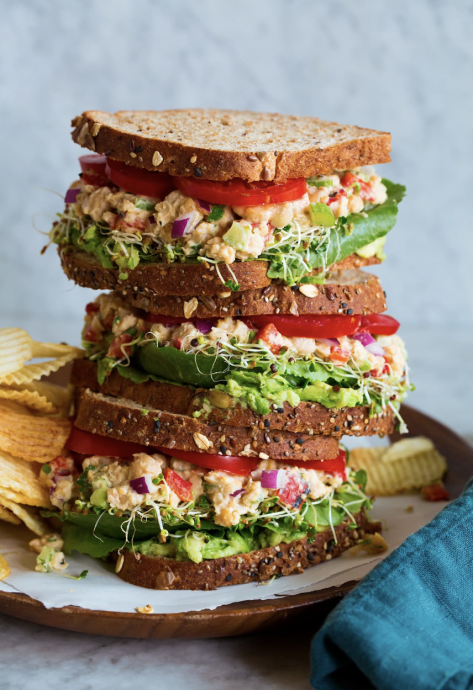 Vegan Chickpea Salad Sandwiches – a nutritious sandwich made with hearty chickpeas, earthy tahini, bright lemon, crisp veggies, multigrain bread, and it's layered with all your favorite toppings. If you love hummus you will also love and appreciate all the similar depth of flavor found in this sandwich!
And if you aren't a hummus fan I've listed an option to make it taste similar to tuna salad instead, with a creamy mayo base (which can also be made vegan). Either way you can't go wrong with this recipe.
It's nutritious, easy to prepare, and it's perfectly filling thanks to those protein filled and fiber rich chickpeas (plus the fiber found in the whole grain bread).
Ingredients:
2 (15 oz) cans chickpeas, drained but reserving liquid, rinsed, and water drained well, divided
1/4 cup tahini*
2 Tbsp extra virgin olive oil
2 Tbsp fresh lemon juice + 1/2 tsp lemon zest
1 medium garlic clove, peeled and smashed
Salt and black pepper
1/2 medium red bell pepper, preferably roasted over the stovetop or under the broiler on a sheet pan, then seeded and chopped
1/2 cup diced celery
1/3 cup chopped red onions
3 Tbsp chopped fresh parsley
10 slices thin wholegrain bread (this is the smaller loaf)