Strawberry White Chocolate Cookies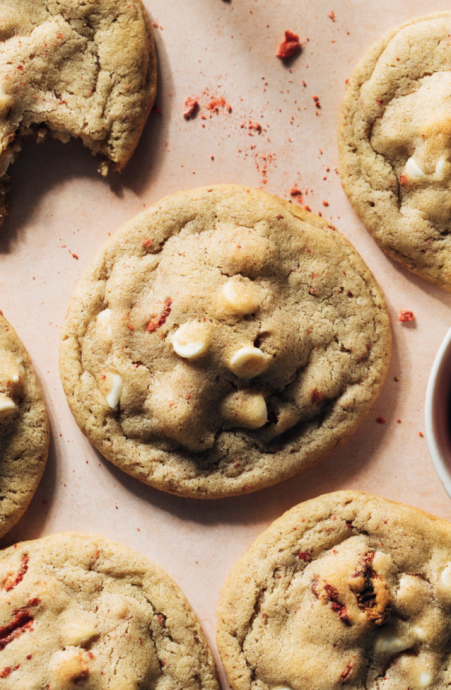 These are HUGE Strawberry White Chocolate Cookies speckled with creamy and rich white chocolate chips and beautifully balanced with tart freeze-dried strawberries. Grab your baking essentials and let's go!
Here's how they come together. We went all-in for about 9-12 giant cookies for this recipe but, of course, if you want to do sweet dainty little baby cookies instead of our jumbo ones, go for it!
Cookie batter. Combine the butter with the sugar until creamy. Next, egg and vanilla; mix until just combined. Add the dry ingredients and mix until just combined then fold in the white chocolate chips.
Crush the strawberries. Gently crush the pieces by hand into small chunks. Careful not to crush all the way into a powder. Fold those strawbs into the dough!
Roll and bake. We rolled them into about 9-12 larger dough balls and placed them on a parchment-lined baking sheet to bake for 9-11 minutes.
Ingredients:
1/2 cup butter (I usually use salted), softened
1/2 cup packed light brown sugar
1/4 cup granulated sugar
1 egg
1 teaspoon vanilla extract
1 1/4 cups + 2 tablespoons flour, (if you have a scale, it should measure 7.3 ounces or 206 grams – if you do not have a scale, measure by spooning flour into the measuring cup and leveling it off)
3/4 teaspoon baking soda
1/2 teaspoon salt
1/2–3/4 cup freeze-dried strawberries
1/2 cup white chocolate chips