Easy Chicago Deep Dish Pizza Recipe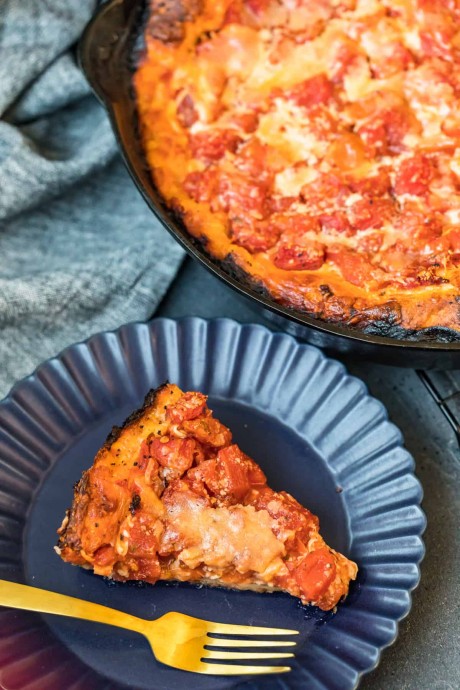 Make a Chicago deep dish pizza at home, in a skillet and with just 6 ingredients! Skip the takeaway this pizza night and serve up this delicious and easy to make pizza.
Pizza night is always something we look forward to, but this week I decided to ditch the takeout and serve up this homemade deep dish pizza for dinner instead. Super easy to make, and spoiler alert, it was a huge hit!
Making this pizza in a skillet makes this recipe so easy and it's a great way of getting that Chicago deep dish at home. I kept this pizza simple and vegetarian, but feel free to add on some sausage or pepperoni if you fancy! This pizza bakes so beautifully in cast iron, and the seasoning of the skillet keeps it from sticking.
As with all pizzas, this is best served straight out of the oven, but if you have any leftovers you can keep them in an airtight container in the fridge for around 3 days. Reheat the pizza in the oven to serve.
Ingredients:
2 tablespoons olive oil
1 1 pound loaf frozen bread dough, thawed (Rhodes works well)
1 28 ounce can Basil, Oregano Diced Tomatoes
2 cups shredded Mozzarella cheese
½ cup grated Parmesan Grana Padano or Romano Cheese
Chopped fresh basil optional