Unstuffed Peppers Casserole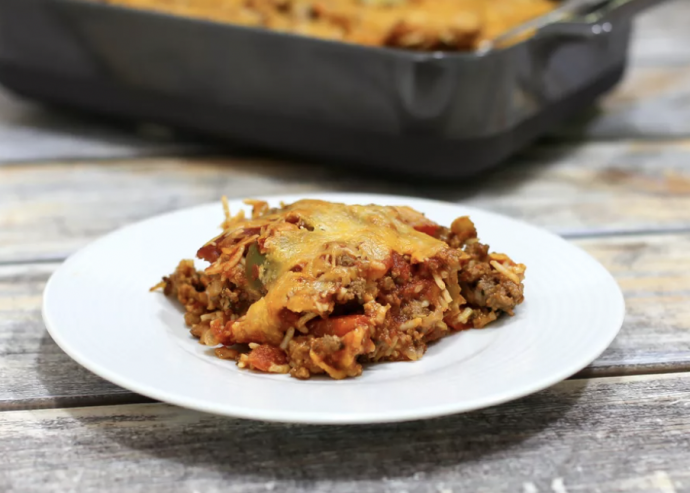 This is an easy way to enjoy stuffed pepper flavors, and because the prep work is so simple, the recipe takes about half the time as traditional stuffed peppers. The casserole is made with ground beef, rice, tomatoes, and cheese, along with peppers and seasonings. This casserole riff is made with all of the familiar ingredients you would expect from classic baked stuffed peppers.
Use this recipe if you are heading to a potluck or need an easy meal for a family dinner or party. It's also quite flexible. Two large bell peppers are used for the dish—one green and one red—but you could use more or use whatever colors you have on hand. If you prefer not to use beef, some ground turkey would also work well in the recipe. If you want to make a vegetarian version, use crumbled tofu or another meat substitute in place of the ground beef. The texture might be a bit different, but the casserole is so flavorful, it will still be tasty.
Serve with a tossed salad and biscuits or any other side dish.
Ingredients
1 1/2 pounds ground beef
1 cup chopped onion
1/2 cup chopped celery
2 large bell peppers, cut in 1-inch squares
1 1/2 teaspoons kosher salt
1/2 teaspoon freshly ground black pepper
1 teaspoon celery flakes, optional
1/2 teaspoon dried oregano
1/2 teaspoon dried basil
1/2 teaspoon garlic powder
1 (14.5-ounce) can diced tomatoes
1 (15-ounce) can tomato sauce, divided
1 1/2 teaspoons Worcestershire sauce
1 1/2 cups cooked rice
8 ounces shredded Cheddar cheese, or Cheddar Jack blend, divided