Apple Pecan Crisp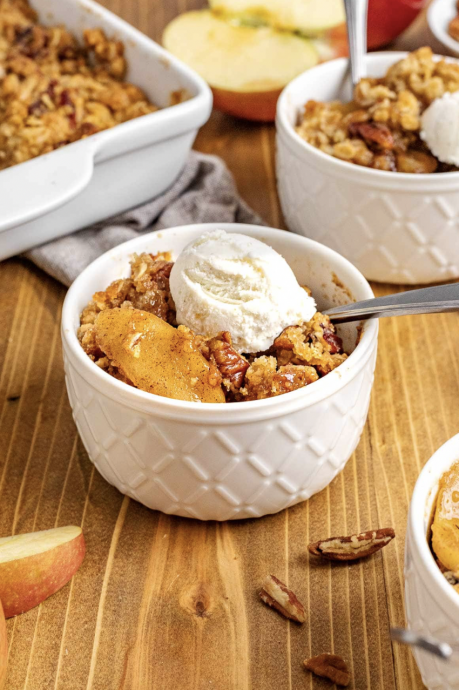 Apple Pecan Crisp is a classic fall dessert! Warm filling of tart apples, brown sugar, cinnamon, nutmeg, and a crunchy pecan oatmeal topping.
Whoever invented the phrase "easy as pie" definitely wasn't a time traveler. They would have known that in today's baking world there are so many desserts that taste just like pie but are way easier to make! From cobblers to buckle cakes to fruit crisps, you can enjoy fresh pie fillings baked in a buttery "crust" with no rolling pin in sight.
What makes an Apple Pecan Crisp different from an Apple Cobbler is the crunchy oatmeal topping that bakes on top. Cobblers have a more buttery topping made completely with flour and sugar, no rolled oats. The crunchy oats and pecans in this Apple Pecan Crisp give it a wonderful flavor too.
Apple Pecan Crisp is ready for the oven with very little prep work. The apple mixture and topping mixture are both hand stirred in a large mixing bowl in just minutes. You could always prepare the apple filling in the baking dish to save on clean up. If you want to fill your house with the most delicious apple cinnamon scent, make this Apple Pecan Crisp in the slow cooker!
Ingredients:
2 pounds Fuji or Granny Smith apples , peeled and thinly sliced
1/4 cup orange juice
1/4 cup sugar
1/4 cup brown sugar , packed
1 tablespoon ground cinnamon
1 teaspoon ground nutmeg
1 1/2 cups flour
3/4 cup sugar
3/4 cup brown sugar , packed
1/2 teaspoon kosher salt
1 cup rolled oats , not instant
1/2 pound cold unsalted butter , diced
1 cup pecans , chopped