Easy Grilled Salmon Salad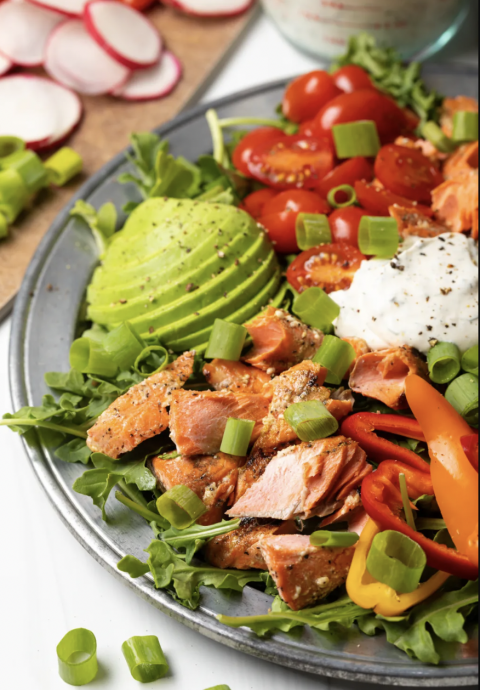 Seafood recipes and summertime go hand-in-hand. And salmon dishes are always sure to please, even on the hottest of days.
One of our favorite simple ways to prepare salmon is to cook it on the grill… Because obviously, our favorite summer fish needs to be prepared with our favorite summer cooking method!
This Grilled Salmon Salad recipe takes just over 30 minutes to make, and could not be any easier to prepare. It features a classic no-fuss red wine vinegar and honey marinade that makes the fish super flavorful and moist. After a few quick minutes on the grill, the salmon is ready to load onto fresh greens alongside crunchy summertime veggies, like mini bell peppers, radishes, and cherry tomatoes.
Ingredients:
For the Grilled Salmon –
1 pound wild caught salmon fillet
2 tablespoon olive oil
1 tablespoon red wine vinegar or lemon juice
1 tablespoon honey
¼ teaspoon garlic powder
Salt and pepper
For the Salad –
4 cups arugula
1 avocado peeled and sliced
1 cup mini bell peppers seeded and sliced
¾ cup cherry tomatoes halved (or grape tomatoes)
½ cup sliced radishes
½ cup chopped scallions
For the Dressing –
½ cup sour cream
½ cup mayonnaise
1 tablespoon lemon juice or red wine vinegar
1 ½ tablespoons fresh chopped dill
1 ½ teaspoons fresh chopped thyme
½ teaspoon garlic powder