Beef Sheet Pan Nachos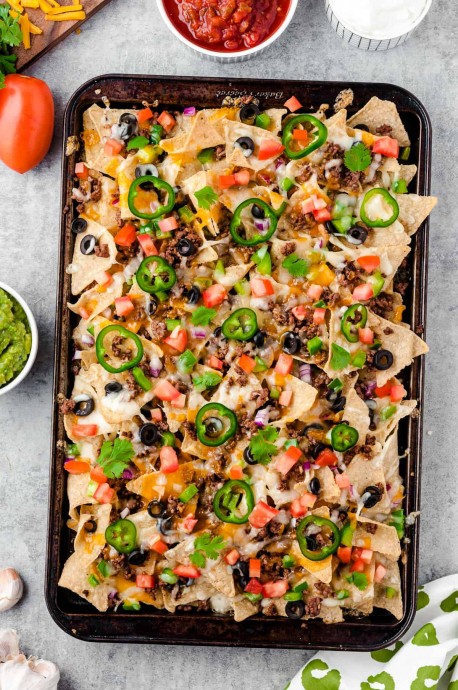 These epic Beef Nachos are the ultimate treat! Make them for game day, movie night, any day or time of the week, really! This Beef Sheet Pan Nachos recipe is loaded with all kinds of goodies and is super easy to make -win, win (and for game day) win!
Beef Sheet Pan Nachos – Perfectly seasoned ground beef, chopped peppers, sliced jalapeños and olives – all layered on top of crunchy warm nachos, then anointed with melty cheddar – this is the ultimate nacho recipe. Have a big tray of these beauties on your table in 30 mins. Easy to prep and even easier to eat! Whip this out for game day, movie night, impromptu gatherings or just as a family treat – guaranteed to bring a smile to anyone's face. Load this up with all your favorite toppings and pick your fave dips!
Perfectly seasoned ground beef, that's packed with flavor, snuggles up with jalapeños, onions, olives, tomatoes and so much more. It's a texture and flavor fiesta! You can make them on the day you plan to serve them and heat gently in the oven. However, these nachos are best eaten fresh from the oven. They don't keep well as the tortilla chips get soggy. Serve with salsa, sour cream and guacamole on the side.
Ingredients:
1 tablespoon olive oil
2 cloves garlic minced
1 pound ground beef
1 teaspoon chili powder
1 teaspoon paprika
1 teaspoon cumin
½ teaspoon dried oregano
¼ teaspoon cayenne pepper
13 ounces tortilla chips 1 bag
1 large green bell pepper diced
1 small red onion finely diced,
½ cup black olives sliced
1 cup monetary jack cheese shredded
1 cup cheddar cheese shredded
1 jalapeño pepper seeded and thinly sliced
1 Roma tomato diced
Fresh cilantro
Salsa for serving
Sour cream for serving
Guacamole for serving