Broccoli Apple Salad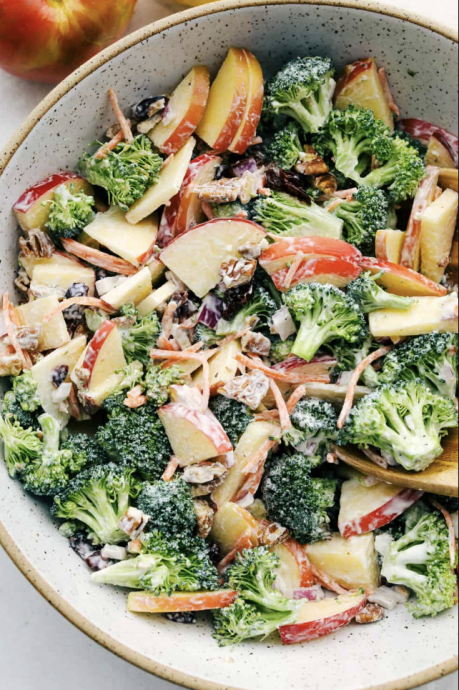 Broccoli, pecans, cranberries, carrots and apples come together to make an amazing salad with delicious flavors and textures. The creamy dressing on top makes this salad absolutely incredible!
Broccoli is amazing in salads, it adds crunch, nutrition and flavor. Some of the best salads with broccoli in them include Broccoli Cauliflower, Greek Broccoli Pasta and this incredible Bacon Ranch Pasta salad. Broccoli in salads is my favorite. I especially love this Broccoli Cashew Salad that is on the blog. But this Broccoli Apple Salad became an instant favorite! As I was eating it, I just couldn't get enough! I knew this salad would be amazing but I wasn't expecting it to become a new favorite! SO many delicious new textures and flavors in this salad. The broccoli, carrots, and red onion, was followed by the sweetness of the apples and dried cranberries. The pecans added another yummy flavor and crunch. The creamy dressing on top was THEE best. It completed this fresh and delicious salad perfectly. I know that if you make this salad, it will become an instant favorite as well!
At first you might think that broccoli and apples don't go together, but they do, trust me. This is truly one of the best salads out there. It's healthy, full of flavor and the dressing is even light. I traded out some of the mayonnaise for greek yogurt, giving you a boost of calcium, protein and cutting the fat. All without compromising on taste and tang. It's going to be a new go to salad for sure!
Ingredients:
4 cups fresh broccoli florets (about 2 medium heads)
1/2 cup shredded carrots
1/4 cup diced red onion
2 large apples finely chopped (I used gala apples)
1/2 cup pecans coarsely chopped
1/2 cup dried cranberries
Creamy dressing ingredients:
1/2 cup lite mayonnaise
1/2 cup low fat greek yogurt
2 Tablespoons lemon juice
1 Tablespoon sugar
1/4 teaspoon salt
1/8 teaspoon pepper