Blueberry Crisp With Meyer Lemon And Ginger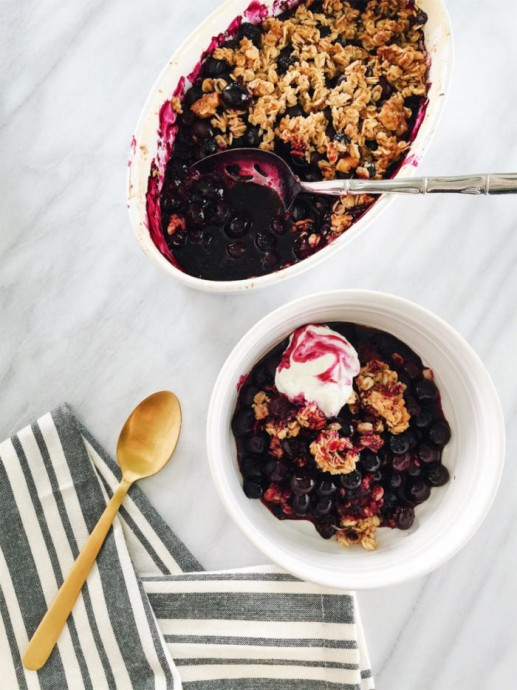 Fruit crisps and winter go hand-in-hand. They're easy, comforting, and anything hot straight from the oven is warmly welcomed on a chilly winter night.
I truly savor the art of creating a crisp or a crumble. Tossing the fruit, making the filling. The smells that permeate from the oven and perfumes the whole house. But my absolute favorite part is when the fruit begins to bubble. This is especially so if that fruit happens to be blueberries. I love when the blueberries bubble, blister, and begin to pop; when they start to form this luscious deep violet syrup, coating the edges of a baking dish in a jeweled sticky glaze.
Of course, fruit crisps are traditionally not the healthiest thing, typically dosed with sugar, butter, and white flour. This Gluten-Free Blueberry Crisp is no exception. It's delicious, sweet, fruity, and oh-so-cozy, while still maintaining a wholesome and nutritious integrity.In fact, my favorite way to eat this crisp is for breakfast. It is just lovely atop some creamy Greek yogurt. The thick juices happily drip down the yogurt, and it's an original way to enjoy your ordinary granola-and-yogurt-bowl.
Ingredients:
18 ounces fresh blueberries
3 tablespoons pure maple syrup
Zest and juice of 1 Meyer lemon
1 teaspoon fresh grated ginger
1 tablespoon + 1 teaspoon cornstarch
1 cup Van's Gluten-Free Blueberry Walnut Granola
1 tablespoon coconut oil