Sheet Pan Roasted Sausage and Vegetables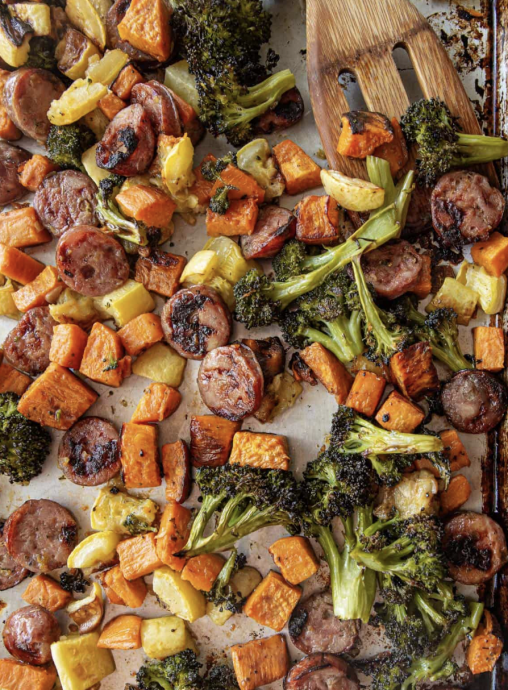 When it comes to dinner, this Sheet Pan Roasted Sausage and Vegetables is about as simple and delicious as it gets. Seasoned with garlic and herbs, everything gets tender and caramelized in the oven and cooks in less than 30 minutes.
This meal is a sheet pan dinner with colorful vegetables and plenty of options to vary the flavors. In a pinch, this is an easy go-to for a family meal. Everyone can enjoy the sausage and vegetables any way they'd like. Serve it with fresh bread and an easy sauce like Dijon mustard sauce. Or serve it over lettuce with Balsamic vinaigrette for a low-carb option.
Every season is sheet pan dinner season, but particularly when things get busy, meals like this come in extra handy. Prep everything ahead and let it cook while you pick up the house, finish work, help the kids with their homework, or maybe just take a moment to catch your breath.
Ingredients:
3 pounds Vegetables, sliced into even 2" pieces (like zucchini, summer squash, carrots, sweet potatoes, cauliflower, broccoli, or Brussels sprouts)
1 pound Smoked Sausage, like chicken, turkey, or andouille, sliced
⅓ cup Extra Virgin Olive Oil
2 cloves Garlic, finely chopped or sliced
2 teaspoons Italian Seasoning
1 teaspoon Kosher Salt
Freshly grated parmesan (optional), for topping