Pizza Stuffed Peppers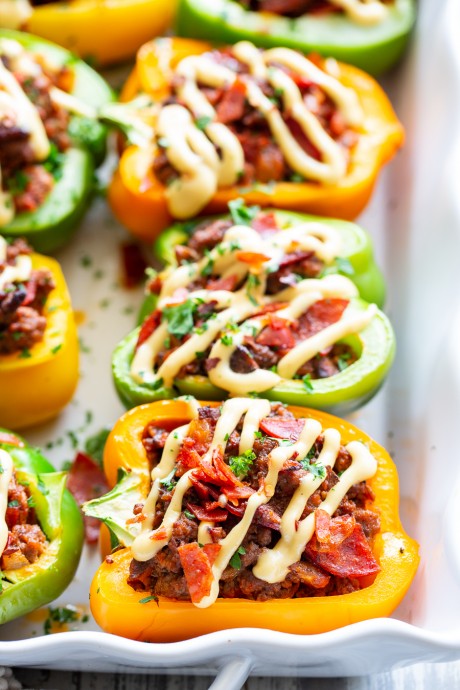 These low carb and paleo pepperoni pizza stuffed peppers are so simple to make and crazy delicious! A hearty "pizza" mixture is baked in bell peppers and topped with the best dairy-free cheese sauce you'll ever have! These peppers are perfect for meal prep and reheat well too. Since peppers are great on your pizza, I knew it was going to be a delicious combo. And really, these stuffed peppers will seriously make your low carb + dairy free dreams come true! With the best cheese sauce and a pizza-saucy beef, mushroom, and pepperoni mixture, you'll love everything about these pizza stuffed peppers. You can also sub in sausage for the ground beef if you prefer. If you own a blender you can make the most delicious dairy-free "cheese" sauce with cashews!
You can prep everything right up to the baking step ahead of time to have a quick dinner to throw in the oven! With all the prep and stove top cooking done first, you can stuff the peppers, cover the baking dish and put it in the refrigerator until you're ready to bake. Don't pour the water into the dish until right before baking. The cheese sauce can also stay in the refrigerator until you're ready to serve. You'll need to heat it just slightly in the microwave for best results. I hope you're ready for a seriously delicious dinner to satisfy all your pizza cravings without the carbs and dairy! Enjoy!
Ingredients:
3/4 cup raw cashews no need to soak
2 Tbsp fresh lemon juice
1/4 cup water
2 Tbsp
avocado oil or olive oil
1 tsp garlic powder
1/2 tsp sea salt
1-2 Tbsp nutritional yeast
4 bell peppers any color
1 Tbsp avocado oil or olive oil
1 small yellow onion diced
1 cup mushrooms diced
Sea salt and black pepper to taste
1 lb ground beef or ground turkey
1/2 tsp oregano
1/2 tsp basil
3/4 cup pizza sauce or marinara sauce
2 oz pepperoni or turkey pepperoni optional, chopped
Crushed red pepper optional
Fresh parsley minced (optional)