Easy Sheet Pan Pancakes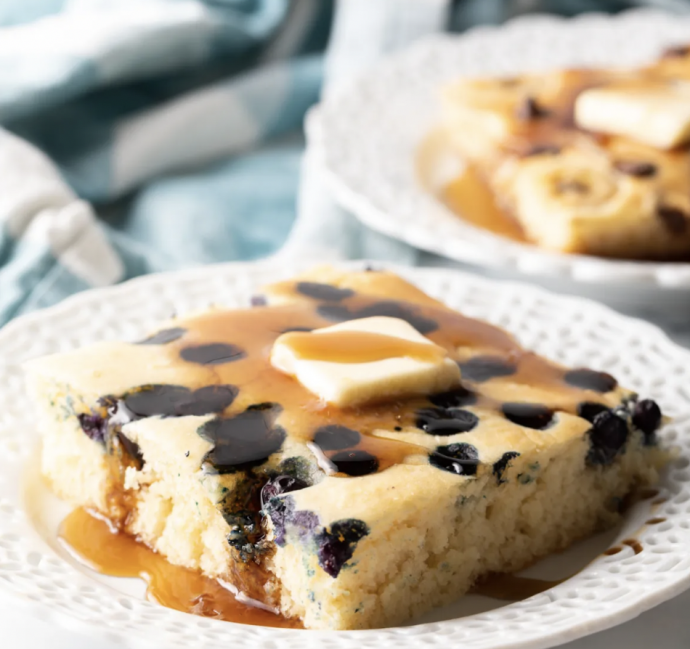 Sheet Pan Pancakes – These oven-baked pancakes are fluffy and tender, no griddle needed! Our easy sheet pan breakfast recipe is great to feed a crowd with barely any effort.
Pancakes are easy enough to make, right? Why do you have to put them in the oven?? Well obviously, you don't. However, pouring pancake batter into a sheet pan and popping it in the oven takes out a lot of the busy time of flipping pancakes over a hot stovetop.
While Sheet Pan Pancakes cook effortlessly in the oven, you have time to casually scramble eggs or cook sausage patties. There's no need to stress over and juggle all your breakfast dishes on the stovetop at once. Also, all the pancakes are ready at the same time!
PLUS, less mess, less chance of burning the pancakes, and just as much breakfast fun! Enjoy making this easy recipe with your choice of tasty toppings – in fact, everyone in the house can choose what goodies to include in their section of baked pancake.
Ingredients:
3 cups all-purpose flour
¼ cup granulated sugar
2 tablespoons baking powder
1 teaspoon salt
2 ¼ cups buttermilk or whole milk
2 large eggs
1 tablespoon vanilla extract
8 tablespoons melted butter divided
Add-Ins As Shown:
1 cup blueberries, fresh or frozen OR
2 sliced bananas + ½ cup chocolate chips + ¼ sliced almonds
More Add-In Ideas:
Sliced strawberries
Raspberries or blackberries
Shredded coconut
Toffee chips
Peanut butter chips
Macadamia nuts + white chocolate chips
Chopped pecans + brown sugar