The Best Chicken Tortilla Soup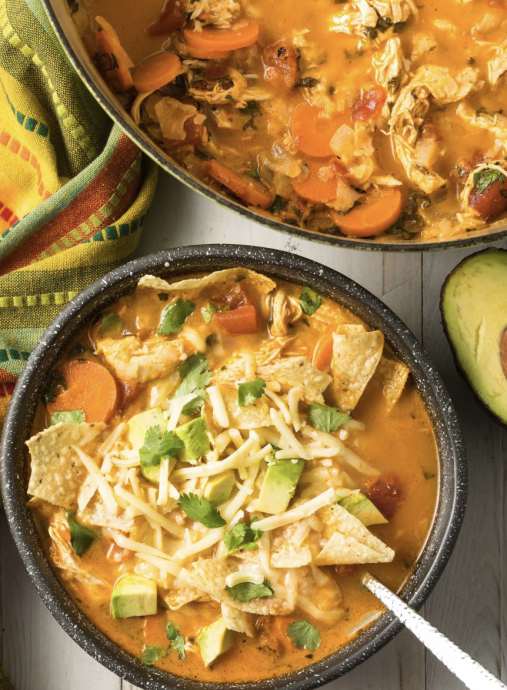 The Best Chicken Tortilla Soup Recipe – This fresh and healthy tortilla soup recipe is easy to make and an absolute crowd-pleaser.
It would seem that everyone has their own version of chicken tortilla soup. Some are thick like gravy. Some thin and watery.
I prefer a thin, but not watery, broth-based chicken tortilla soup with lots of veggies and toppings. Today's Easy Chicken Tortilla Soup Recipe is exactly how I like it. Rich, zesty, and ultra comforting, with a slightly spicy finish. I developed this easy chicken tortilla soup recipe years ago and would venture to say it is my most requested recipe, both with personal friends and blog readers. I email the link to this recipe constantly!
Ingredients:
2 tablespoons olive oil
1 small onion, peeled and chopped
2/3 cup fresh chopped cilantro, divided
3 cloves garlic, minced
4+ cups chicken broth
14.5 ounce diced "fire roasted" tomatoes (canned)
2 whole skinless chicken breasts
3/4 tablespoon ground cumin
1/2 tablespoon chili powder
1/4 teaspoon cayenne pepper
1-2 bay leaves
2 carrots, thinly sliced
1 1/2 cups shredded Monterey jack cheese
1-2 avocados, diced
10 ounce Bag of tortilla chips