Millionaire Gnocchi with Red Sauce, Herbed Ricotta, and Golden Crispies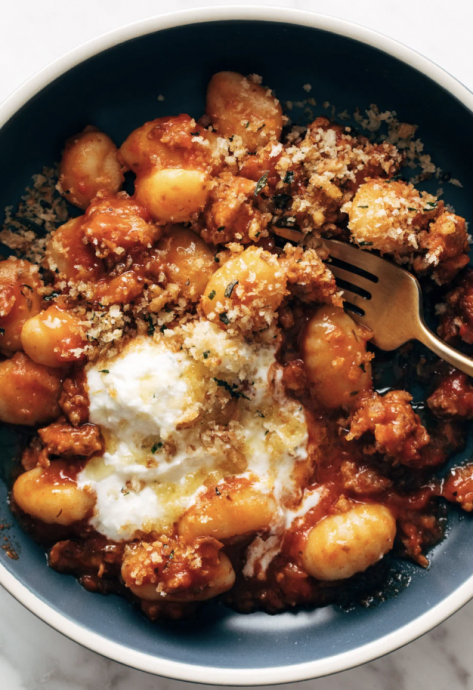 Alert alert alert — the coziest, rich, deeply comforting, easy meets decadent, saucy, stunning, ding dang TREASURE of a dish is here for you.
Soft pillowy gnocchi swimming in a delicious and easy red sauce speckled with Italian sausage, dollops of zesty herbed ricotta melting into each creamy bite, surprise little crunches from the savory golden brown breadcrumbs you sprinkled on top.
There are a few extra steps involved to make each separate piece come together, but once they're all in the same place at the same time, you will not regret one single extra chop or stir it took to make this darling happen. You'll have to make your crispies (or perhaps you already have a jar made in your fridge because they are your new best friend?), you can mix together the herby ricotta while the sauce is simmering, the gnocchi is prepackaged but, hey, if you're really feeling it this evening, you could also make your own!
Ingredients:
Red Sauce
1 pound ground Italian sausage or meatless alternative
1–2 tablespoons extra-virgin olive oil
1 medium yellow onion, minced
2 large cloves garlic, minced
one 28-ounce can crushed tomatoes
1 teaspoon dried oregano
salt and red pepper flakes to taste
Herbed Ricotta
6–8 ounces of ricotta cheese
1 small clove garlic, grated
zest and juice of 1 lemon
salt to taste
minced herbs to taste (chives, parsley, and/or thyme)
Gnocchi
two 16-ounce packages pre-cooked gnocchi