Ham and Cheese Croissant Breakfast Casserole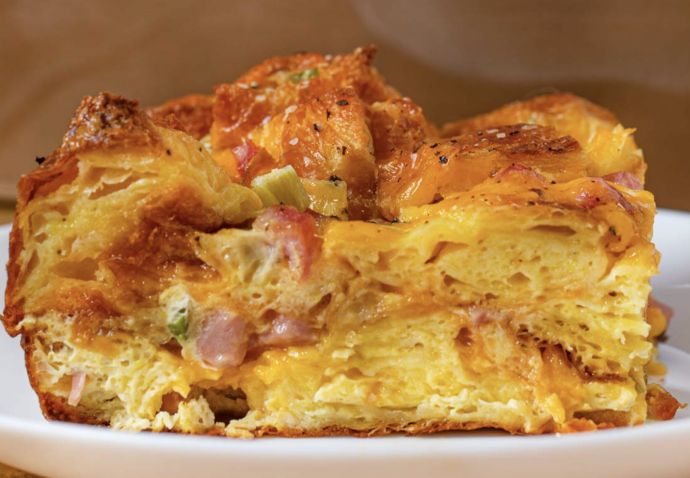 Ham and Cheese Croissant Breakfast Casserole will be your new go-to breakfast bake perfect for holidays, brunch, or even dinner. Ready in about an hour!
What would you get if our Breakfast Casserole met our Chocolate Chip Croissant Bake? This delicious, hearty Breakfast Recipe that can feed a crowd in no time.
This breakfast croissant casserole is a rich, savory bake that is inspired by a coffee shop staple, the Ham and Cheese Croissant. These buttery, delicious sandwiches get turned into a dish loaded with cheesy, crispy eggy goodness in every bite.
To make this egg bake, we used day old croissants that were from the bakery. You want to make sure you get the large ones, the kind they make sandwiches with. If you use smaller ones, use more and keep the pieces chunkier. While we definitely love them for so many other recipes – do not use crescent rolls for this dish!
Ingredients:
8 large eggs
1 1/2 cups whole milk
2 teaspoons ground mustard
2 tablespoons brown sugar , packed
1 teaspoon Kosher salt
1/2 teaspoon coarse ground black pepper
1/4 teaspoon ground nutmeg
2 cups cheddar cheese , shredded
2 stalks green onions sliced
6 large croissants , cut into 1" cubes
2 cups cooked ham , diced