Veggie Black Bean Enchiladas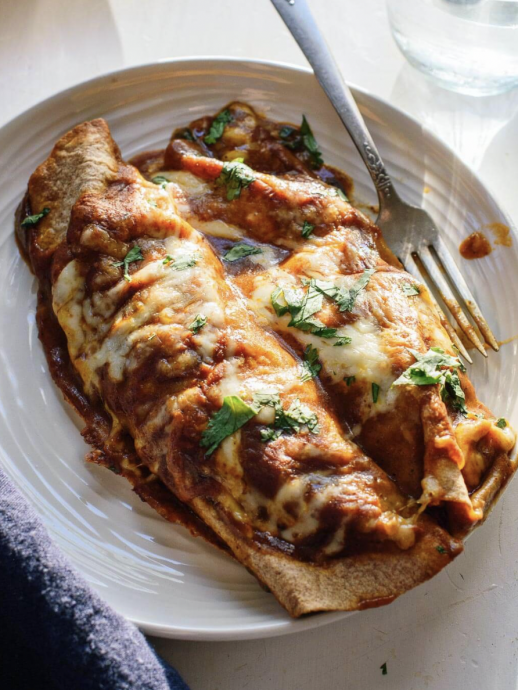 These enchiladas are a casual, hearty entree that will be met with delight as you pass it around the table. When the dust settles from the cookbook, I'm going to invite friends over for an enchilada party.
These enchiladas are somewhat similar to the spinach artichoke enchiladas you all have enjoyed so much, but with no artichoke and half as much beans. I covered them with my go-to homemade enchilada sauce, of course. They're just cheesy enough, with a filling of sautéed bell pepper, broccoli, onion, spinach, black beans and some warming spices.
Ingredients:
2 cups homemade enchilada sauce
2 tablespoons olive oil
1 cup chopped red onion (about 1 small red onion)
1 red bell pepper, chopped
1 bunch of broccoli or 1 small head of cauliflower (about 1 pound), florets removed and sliced into small, bite-sized pieces
1 teaspoon Frontier Co-op Ground Cumin
¼ teaspoon Frontier Co-op Ground Cinnamon
5 to 6 ounces baby spinach (about 5 cups, packed)
1 can (15 ounces) black beans, drained and rinsed, or 1 ½ cups cooked black beans
1 cup shredded Monterey Jack cheese, divided
½ teaspoon salt, to taste
Freshly ground black pepper, to taste
8 whole wheat tortillas (about 8" in diameter)
Handful of chopped cilantro, for garnishing