Shepherd's Pie with Garlic, Mashed Potatoes and Cream Cheese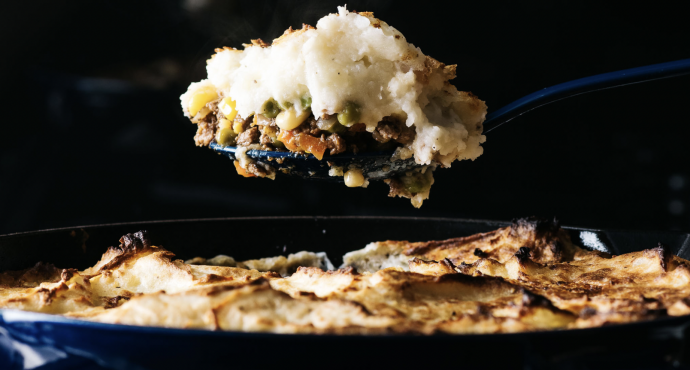 Is there anything more delicious than shepherd's pie? Savory meat swimming in gravy, studded with tender vegetables topped off with smooth and fluffy mashed potatoes? Dream meal right there. Shepherd's pie is one of my ultimate comfort foods. I think I could eat it for every meal straight for a week and not be sick of it.
First things first, shepherd's pie is supposedly made with lamb and cottage pie is made with other meats. But really, what's in a name, right? As long as it's a potato topped pie, it's shepherd's pie in my books. Growing up, it was my all time most favorite thing to eat ever. My mom made it with ground pork (because we didn't eat beef back then and there was no ground lamb to be seen) and topped it off with homemade mashed potatoes. I lived to lick the mashed potato spoon, much the same way other kids lived to lick frosting off beaters.
Ingredients:
3 large russet potatoes, peeled and quartered
3-4 cloves roasted garlic*
2 tablespoons butter, at room temp
2 tablespoons cream cheese, at room temp
1/4-1/2 cup milk
salt and freshly ground pepper
Filling
oil
1 onion, diced
2 small carrots, peeled and diced
2 cloves garlic, minced
1 lb lean ground beef
1/4 cup beef broth (you can sub water, if desired)
2 teaspoons tomato paste
1/2 teaspoon thyme
1/2 cup corn
1/2 cup frozen peas
salt and freshly ground pepper
1-2 tablespoon butter, if desired