Cheesecake Strawberry Smoothie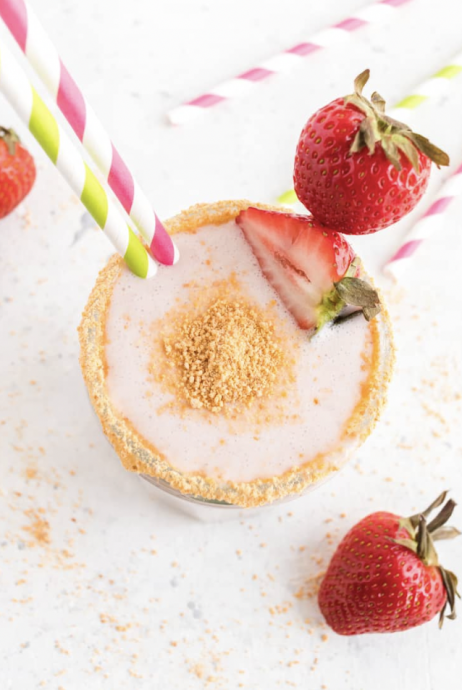 An easy Strawberry Cheesecake Smoothie recipe turns a favorite dessert into a healthy treat you can enjoy any time of the day. So creamy and delicious with only 5 ingredients! Yes, you can make your basic strawberry smoothie taste like a rich and dreamy slice of cheesecake just by adding some cream cheese. It adds that perfect amount of tangy flavor to balance the sweetness.
And while we all need to treat ourselves something as decadent as cheesecake every once in awhile, this recipe actually makes it good-for-you to indulge as often as you like.
If you choose to use leafy greens, by putting them in first, they get the maximum blending so that they get fully broken down since they are fully submerged in the liquid, which is added next.
Soft ingredients go next because they break down and distribute in the liquid.
If you are going to add in any nutritional boosters like protein powder, collagen powder, chia seeds, or anything else, do that now.
Then the frozen ingredients, in this case, the strawberries, banana, and ice, are last so that they blend just enough to keep a thick texture and don't melt completely.
Ingredients:
A couple of handfuls of spinach (optional)
1 cup unsweetened almond milk or your dairy or non-dairy milk of choice
1/2 cup vanilla or plain Greek yogurt or cottage cheese (if you use plain yogurt or cottage cheese, you may want to add ½ teaspoon vanilla and a couple of teaspoons sugar, honey, or your sweetener of choice, to taste)
2 Tablespoons cream cheese (1 oz.), you can use light cream cheese
1 cup frozen strawberries
1/2 very ripe banana , frozen
Optional crushed graham crackers or finely chopped almonds or almond meal , sliced strawberries, or whipped cream for garnish