Caramel Pecan Cookies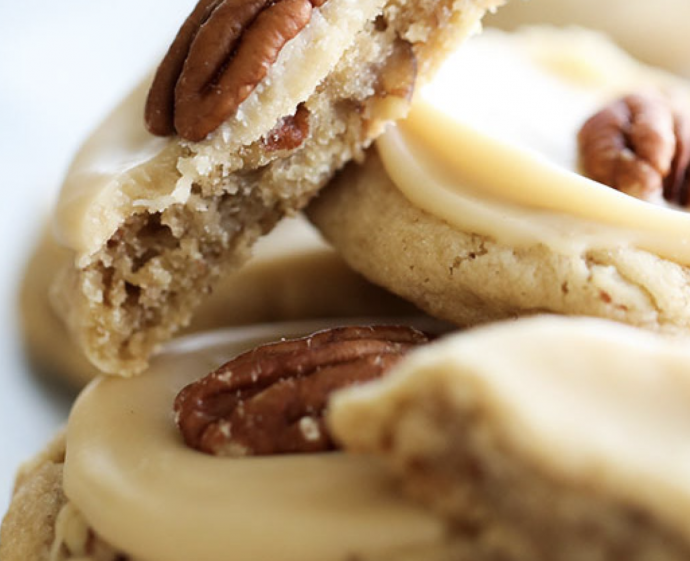 Caramel Pecan Cookies are both sweet and nutty in flavor. They are a perfect fall and winter treat. The creamy caramel frosting slightly hardens over the top of the cookie providing a smooth and even coating to each bite. These cookies are so delicious!
These cookies are rich in nutty flavor and balanced with a sweet caramel frosting. They bring a perfect balance of texture and flavor to each bite.
Some tips for getting softer cookies
Don't over bake. It is always better to under bake than over bake. Cookies continue to cook on pan during their 10 minute cool down.
Don't over mix. Over mixing over works the gluten and can produce tough cookies.
Don't add too much flour. Sometimes first instinct is to add more flour if cookie dough seems to soft. Be careful. Adding more flour than a recipe calls for can produce dense cookies that don't spread the way they are supposed to while baking. Often cookies turn out taller than anticipated.
Ingredients:
1 cup butter, softened
¾ cup brown sugar
¼ cup white sugar
1 egg
1 teaspoon vanilla
2 cups flour
½ teaspoon baking soda
1 teaspoon salt
1 cup finely chopped pecans
CARAMEL FROSTING
¾ cup brown sugar
¼ cup plus 2 Tablespoons of half and half
3 Tablespoon butter
1½ cups powdered sugar
pecan halves for a garnish