Marble Cake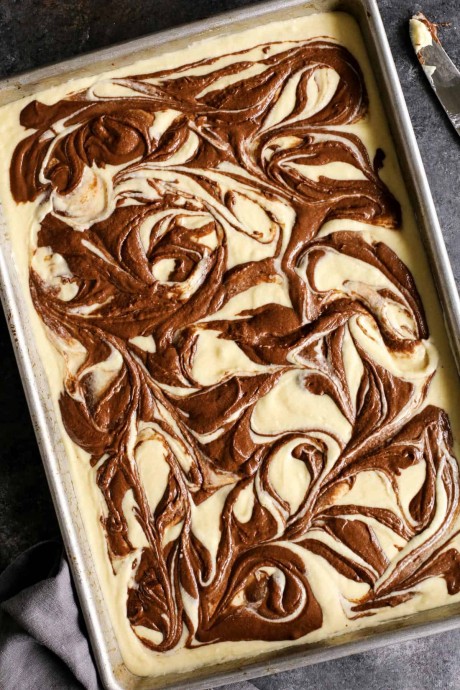 Marble Cake – A moist marble sheet cake slathered with a rich and creamy double chocolate buttercream frosting. This marble cake recipe is easy to make and quick to disappear!
Marble Cake – with a sinfully delightful double chocolate buttercream slathered over the top. You're going to love it, too!
You know what a marble cake looks like. It has an intriguing streaked or mottled appearance, with separate light and dark batters very subtly blended in the same cake pan. The cake is mainly vanilla, with streaks of chocolate.
This marble sheet cake recipe is easy (and fun!) to make. This marble cake bakes up very moist, partly due to the incorporation of sour cream. And I love what the sour cream does for this recipe as well. The cake has an almost pudding-like texture to it. It's dense and moist and does not dry out easily. And then let's talk about that frosting.
This is a double chocolate buttercream. A fantastic double chocolate buttercream, I must emphasize, using both melted semisweet chocolate chips and unsweetened cocoa powder. The chocolate frosting is thick and creamy and easily spreadable, plus rich and chocolatey in flavor.
Ingredients:
1 oz. good quality semisweet chocolate
2 c. all-purpose flour
1 tsp. baking powder
1/4 tsp. kosher salt
1 c. unsalted butter, softened
1-1/2 c. sugar
3 large eggs
1 T. pure vanilla extract
1/2 c. whole milk
1/2 c. + 1 T. sour cream, divided
3 T. unsweetened cocoa powder
1/8 tsp. baking soda
FOR THE DOUBLE CHOCOLATE BUTTERCREAM:
1/2 c. semi sweet chocolate chips
1 c. unsalted butter, softened
2-1/4 c. powdered sugar
1/4 c. unsweetened cocoa powder
2 T. half and half
1 tsp. pure vanilla extract
1/4 tsp. kosher salt