Caramel Apple Cheesecake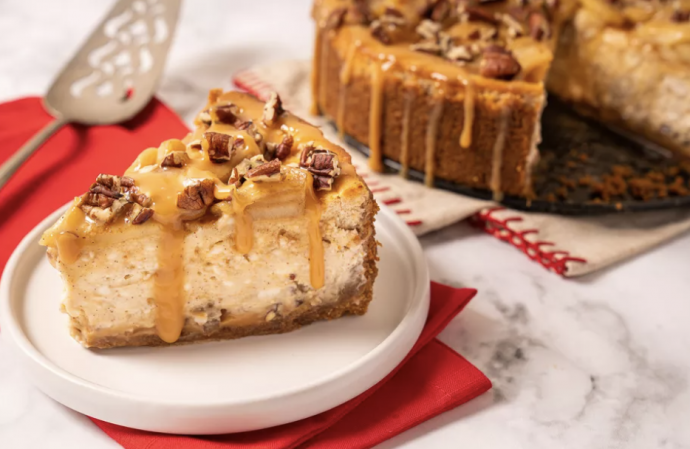 If you love to eat caramel apples in the fall, and you think there's always room for another cheesecake in life, you will swoon for this caramel apple cheesecake.
A cinnamon-specked cheesecake in a graham cracker crust is topped with sweet, sauteed apples. That in turn, is then topped with a soft caramel drizzle and chopped pecans.
The perfect dessert to adorn any holiday table or celebration, although it takes a bit to make it, this cheesecake is absolutely delicious.
Ingredients
For the Cinnamon Graham Cracker Crust:
2 cups cinnamon graham cracker crumbs
1/2 cup unsalted butter, melted
3 tablespoons firmly packed brown sugar
For the Caramel Layer:
1 (14-ounce) package soft caramels
2/3 cup evaporated milk
1/3 cup chopped pecans
For the Cinnamon Cheesecake Filling:
3 (8-ounce) packages cream cheese
3 large eggs, lightly beaten
1 (8-ounce) carton sour cream
1 cup granulated sugar
2 teaspoons vanilla extract
1 teaspoon ground cinnamon
1/4 teaspoon salt
For the Apple Topping:
3/4 cup apple juice or apple cider
1/3 cup firmly packed brown sugar
1/4 teaspoon ground cinnamon
1 tablespoon unsalted butter
2 apples, peeled, cored, and thinly sliced
1/3 cup chopped pecans