Sheet Pan Meatballs with Tomato Salad and Green Sauce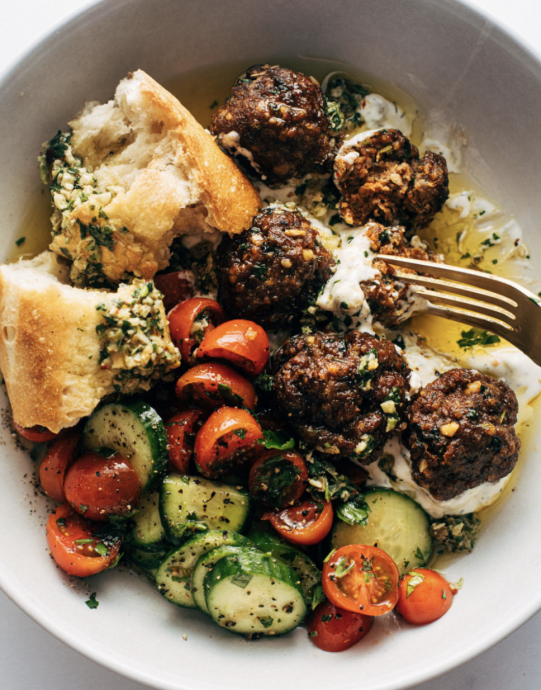 Juicy little sheet pan meatballs that are salty, zesty, briney, and so so delicious. Pile them on tzatziki, spoon some punchy green sauce over top, and serve with a simple salad and crusty bread.
Super juicy and deeply flavored thanks to some delicious briney green sauce – made with parsley, cilantro, walnuts, capers, garlic, and more – that will go not only inside but also on top of these little beauties. Serve them alongside some juicy marinated tomatoes, swoop them through tzatziki, douse them in that green sauce, grab yourself a buttery hunk of crusty bread, and let's have the best meatball party in town, shall we?
This isn't just any old meatball. Not only is the quality of beef A+ (we're using ButcherBox Grass-Fed Grass-Finished – more on that later), but that little green sauce magic concoction in the mixture brings a whole explosion of flavor with salty brininess from the capers, a little zest from the lemon, and our favorite punch of all punches, the garlic punch. It all just sort of swims together to bring maximum flavor to this little guy. It's like a whole meal of tastes in one bite!
Ingredients:
Green Sauce:
2 garlic cloves
1 cup parsley
1 cup cilantro
1/4 cup capers or pitted castelvetrano olives
1/2 cup walnuts
juice and zest of a lemon
1/2 cup olive oil
salt to taste
Sheet Pan Meatballs:
1 egg
1 tablespoon paprika
1 teaspoon salt
1 cup panko
1 lb. ground beef (the ButcherBox grass-fed grass-finished ground beef is top-notch)
Extras:
rustic hunks of bread for serving (I used a baguette)
tzatziki (I used store-bought)
tomato salad for serving (I made this one and threw some cucumbers into it)