Taco Soup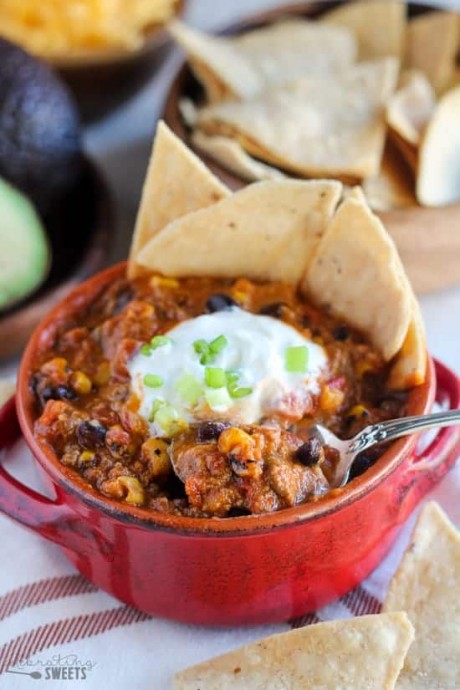 Taco Soup Recipe – All the flavors of a taco in an easy one-pot meal. Beef, corn, black beans, green chiles, and taco seasoning make up this flavorful soup. Garnish with your favorite taco toppings – cheese, sour cream, avocado, or tortilla chips.
The best part of a taco (for me) are the toppings, so we're going to pile our soup with sour cream, cheese, avocado, and green onion. And of course… tortilla chips! Crush up tortilla chips and stir them into your soup, or serve a big bowl of tortilla chips on the side. My husband loves to eat this soup with chips as his utensil. It's not a bad idea.
The base of this soup is actually quite healthy. If you're watching what you're eating, or looking for a lighter option, the soup itself is full of protein and fiber and loaded with flavor. This is a fantastic one-pot meal for any night of the week! It's family friendly and easily adaptable to make however you like it. It's great for game day too! I say any food that can be eaten off of a chip in front of the TV is perfect for game day. Give it a try!
Ingredients:
2 tablespoons extra virgin olive oil
1 pound ground beef, I used lean ground beef
1 small yellow onion, chopped
1 carrot, chopped
4 tablespoons taco seasoning
28 oz can crushed tomatoes, I used fire roasted
4 oz can diced green chiles
2 cups beef broth
1 1/2 cups frozen corn, I used fire roasted
15 oz can black beans, drained
salt
Toppings:
Tortilla chips
Sour cream
Cheese
Avocado
Green onion