Pumpkin Spice Buddies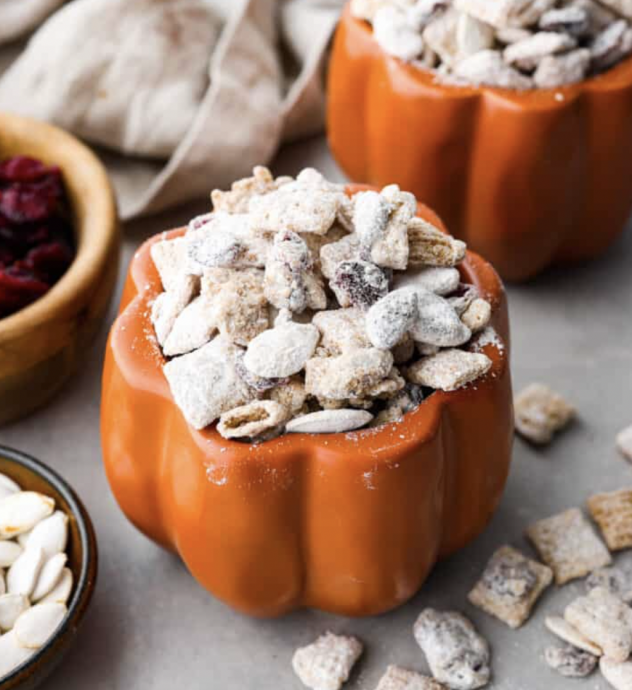 Prepare yourself for the best fall treat around- delicious pumpkin spice combined with one of the easiest treats on the planet – muddy buddies! The crunchy Chex Mix, chocolate, powdered sugar, and added cranberry and fall spices will make you want to finish the whole bowl.
I seriously think I just found the BEST fall snack ever invented. I'm obsessed with classic muddy buddies (puppy chow), but adding pumpkin spice takes these treats to a whole other level. I mean, pumpkin spice is the best part of fall, so why not add it to all of your favorite treats and desserts? You've got to make these pumpkin spice muddy buddies and join me in my new addiction. You won't regret it!
They are SO easy to make but so yummy! It's the perfect last-minute addition to any fall party. The flavors of Cinnamon Chex Mix, white chocolate, powdered sugar, and pumpkin pie spice are going to have everyone coming back for more. A bowl of pumpkin spice buddies never lasts long. Once you try it for yourself, you'll see why!
Ingredients:
1 box 13.5 oz Cinnamon Chex® Cereal
1 1/2 cups white chocolate chips
1 cup dried unsweetened cranberries
1 cup roasted and salted pumpkin seeds
2 teaspoon pumpkin pie spice
1/2 cup powdered sugar divided