Italian Sausage, White Bean, and Kale Soup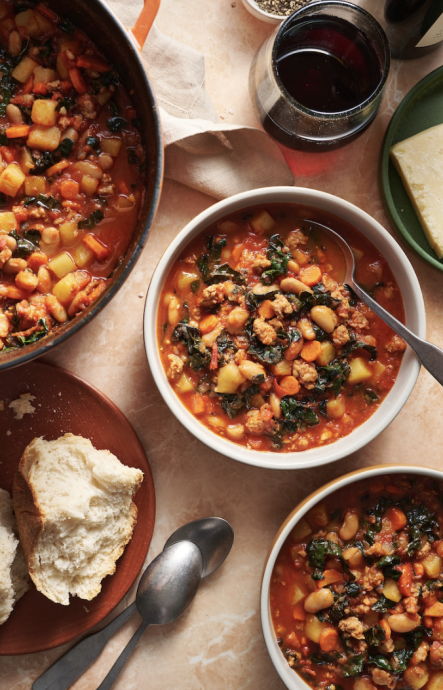 It's soup season, and this quick and easy Italian sausage, kale, and white bean soup is sure to be on heavy rotation all season long. It makes a large pot, and the leftovers are even more delicious a day or two after. But good luck having leftovers… it's so hard to stop at just one bowl when it comes to this soup!
As we quickly zip through the month of October, I find myself reaching for my dutch oven more often than not. We make soup at least once a week for dinner… year round! But during the Fall and Winter months, it's on our menu more like 3 to 4 times a week. From pasta Fagioli, to classic chicken noodle, to this hearty Italian sausage white bean and kale soup, we just can't get enough.
Ingredients:
2 Tablespoons (28ml) olive oil
2 medium yellow onions chopped
1/4 teaspoon crushed red pepper flakes more to taste (if you want it spicier)
1 pound sweet Italian sausage casings removed
4 large carrots peeled and chopped
4 medium white waxy potatoes peeled and diced
6 large garlic cloves peeled and minced
1/2 cup (113ml) white wine
2 Tablespoons (28g) tomato paste
1 28 ounce can crushed tomatoes with basil
1 teaspoon salt more to taste
1/2 teaspoon black pepper more to taste
1 32 ounce container chicken bone broth
2 cups (454ml) water
6 heaping cups tuscan kale ribs removed, coarsely chopped
2 15 ounce cans cannellini beans drained and rinsed