Caramel Apple Cheesecake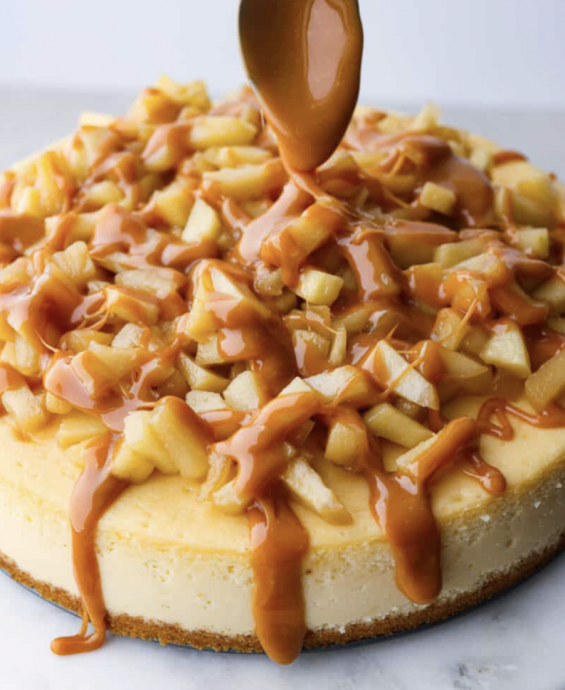 This Caramel Apple Cheesecake is the best of both desserts! Creamy tangy cheesecake topped with brown sugar apples and covered in caramel sauce, it's so crave-able you'll have a hard time eating just one slice.
I love cheesecakes, and I might have actually outdone myself here! This recipe is SO good and following the tips I'll share here you'll perfect it. If you are a cheesecake lover like me, then you have to try this Absolutely Perfect No-Bake Cheesecake, it's so easy you'll find yourself craving it often. If you want to try some more adventurous flavors, this Tiramisu Cheesecake is always a hit, and this Churro Cheesecake is to die for!
Caramel apples are a fall favorite at my house. Cheesecake we eat all year 'round. There are so many fun flavors of cheesecakes I have to have them for every season! At first I was nervous about making cheesecakes. They can be a little intimidating because there is a lot you have to get right for it to turn out perfectly. So I started with a simple key lime no-bake cheesecake. It was delicious! And it made me want to make it the traditional way. Let me tell you, it's so much easier than I thought it would be! It turned out great and I know yours will too.
Ingredients:
Crust
1 ½ cups graham cracker crumbs
⅓ cup granulated sugar
¼ cup unsalted butter melted
1 pinch salt
Cheesecake
2 pounds cream cheese room temperature (4 8-ounce packages)
1 ½ cups granulated sugar
8 ounces sour cream room temperature
5 large eggs room temperature
1 tablespoon vanilla extract
1 tablespoon lemon zest
Apple Topping
4 cups apple peeled and diced
3 tablespoons salted butter divided
6 tablespoons brown sugar
2 pinches salt
Caramel Sauce
1 ½ cup chewy caramel candies
2 tablespoons heavy cream