Beef Pan-Fried Noodles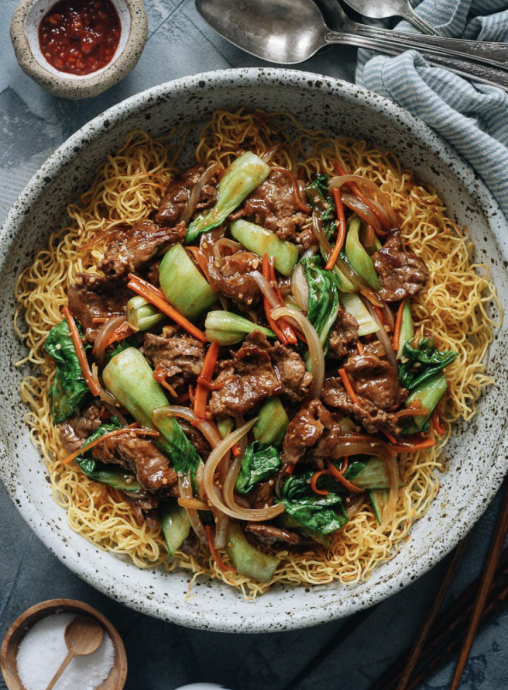 Turn your kitchen into a Chinese restaurant by making crispy pan fried noodles with juicy beef in a rich and savory sauce that tastes too good to be true!
Beef pan fried noodles has always been one of my favorite dishes in Chinese restaurants. Those crunchy-fried noodles with the crispy texture. That heavenly brown sauce over the tender slices of beef, all mingling with a bed of crispy noodles and a medley of crunchy veggies. It's a perfect meal that has everything you need to fill you up and satisfy your Chinese food craving.
Ingredients:
8 oz (225 g) flank steak (or skirt steak) , thinly sliced against the grain
8 oz (225 g) fresh Hong Kong pan fry noodles (or other type of thin noodles) (Footnote 1)
Meat & Marinade
2 tablespoons Shaoxing wine (or dry sherry)
2 teaspoons cornstarch
1/4 teaspoon salt
Sauce
1 cup low-sodium beef broth
2 tablespoons soy sauce (*Footnote 2)
2 tablespoons oyster sauce
1 tablespoon Shaoxing wine (or dry sherry)
2 tablespoons cornstarch
1 teaspoon sugar
1/4 teaspoon Chinkiang vinegar
1/4 teaspoon white pepper
Stir-Fry
4 tablespoons peanut oil , divided
4 heads baby bok choy , quartered
4 cloves garlic , minced
1 inch (2.5 cm) ginger , minced
1/2 yellow onion , sliced
1/2 carrot , sliced into strips