One Pan Thai-Inspired Coconut Yellow Curry Chicken & Rice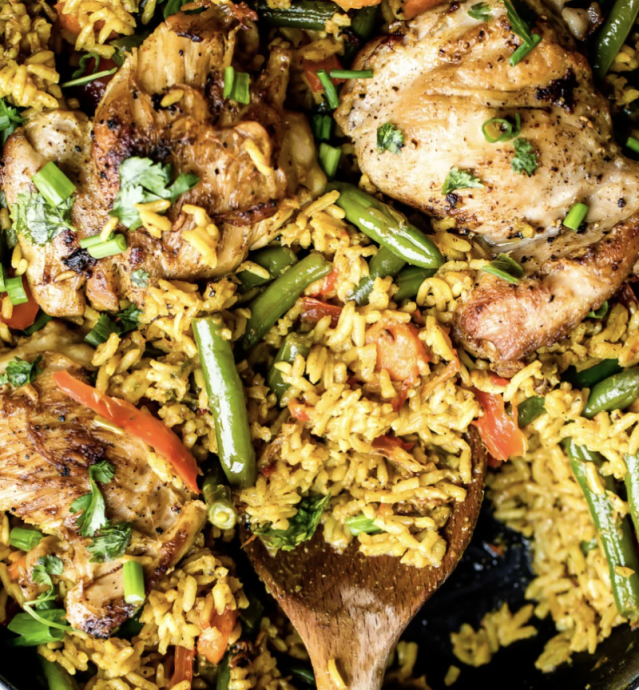 Incredibly flavorful Thai-inspired yellow curry chicken and rice made in one pan with plenty of veggies, protein and delicious flavors from coconut milk, ginger, garlic and turmeric. This easy one pan yellow curry chicken and rice is great for meal prep!
This one pan Thai-inspired yellow chicken curry and rice is one of those recipes that once you make it, you'll truly come back to it time and time again. It's filled with wonderful flavors from fresh ginger, garlic, and curry powder, and packed with colorful veggies that cook right in the pan.
Ingredients:
1 tablespoon coconut oil, plus more if necessary
2 cloves garlic, minced
1 pound boneless skinless chicken thighs
Freshly ground salt and pepper
2 cloves garlic, minced
1 tablespoon freshly grated ginger
1 bunch green onions, chopped
1 red bell pepper, julienned
8 oz green beans, ends trimmed and cut into roughly 2 inch long pieces
2 medium carrots, sliced
1 (15 ounce) can lite coconut milk
1/2 cup water or broth
1 tablespoon medium yellow curry powder (or 2 tablespoons yellow curry paste)
1 teaspoon ground turmeric
1 lime, juiced
½ teaspoon salt
1 cup white basmati rice
To garnish:
Fresh cilantro
Diced green onion