Spicy Black Bean Soup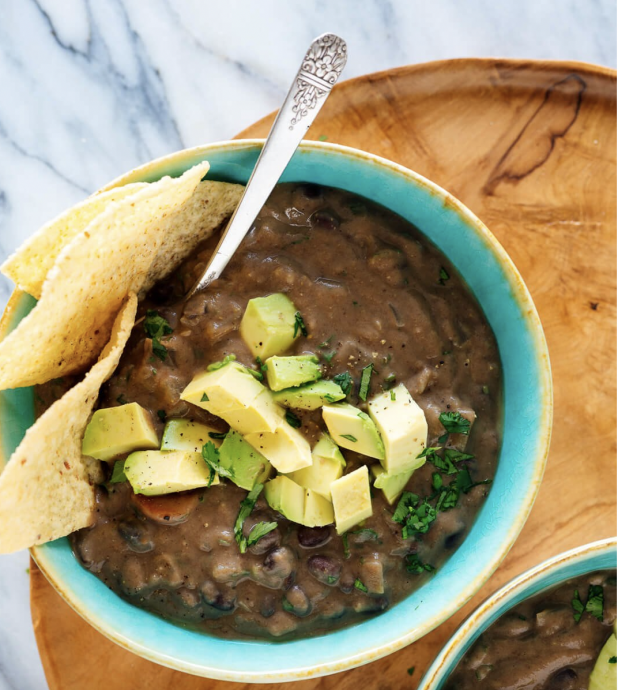 Meet my favorite black bean soup! It takes advantage of canned black beans and comes together quickly. Yet the soup tastes remarkably fresh thanks to the carrots, celery and garlic.
Cumin and a little bit of sherry vinegar (or lime juice) add a Cuban flair that takes it over the top. This lightly creamy black bean soup is packed with flavor.
This homemade soup is a million times better than the store-bought variety. Read the comments if you don't believe me just yet!
Ingredients:
2 tablespoons extra-virgin olive oil
2 medium yellow onions, chopped
3 celery ribs, finely chopped
1 large carrot, peeled and sliced into thin rounds
6 garlic cloves, pressed or minced
4 ½ teaspoons ground cumin
½ teaspoon red pepper flakes (use ¼ teaspoon if you're sensitive to spice)
4 cans (15 ounces each) black beans, rinsed and drained
4 cups (32 ounces) low-sodium vegetable broth
¼ cup chopped fresh cilantro (optional)
1 to 2 teaspoons sherry vinegar, to taste, or 2 tablespoons fresh lime juice
Sea salt and freshly ground black pepper, to taste
Optional garnishes: diced avocado, extra cilantro, thinly sliced radishes, tortilla chips…