Sautéed Zucchini with Parmesan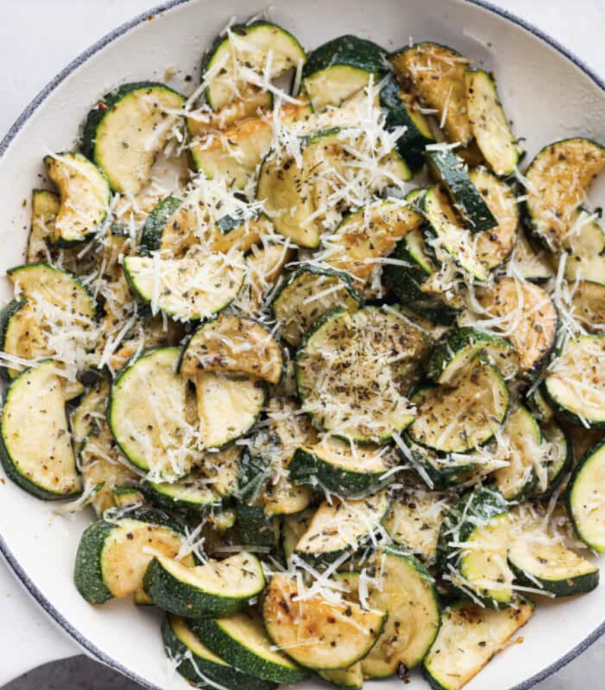 Sautéed zucchini is a fresh and simple side dish bursting with cheesy Italian flavors. Garden zucchini is sautéed in olive oil and fresh garlic, perfectly seasoned with Italian herbs, and then topped with parmesan cheese.
I sure do love an easy and tasty side dish! It just adds to the success of the whole entire meal. If you're looking for some more side dish ideas, try my easy corn on the cob, this delicious rice recipe, or the best green bean casserole.
Seasoned and sautéed zucchini is a tender and healthy way to cook and serve this fresh vegetable. It is the perfect complement to any meal and it's an easy way to add veggies to your day. My garden is bursting with this all summer long and I am always looking for new and delicious ways to cook it up and serve it to my family. It's so crisp and golden on the outside and tender and soft on the inside… It makes my mouth water just thinking about it!
Zucchini is so versatile and is a great way to make your recipes gluten-free and low-carb. It is full of fiber, and it's a great healthy side dish or substitute in any meal. I love to use it in place of noodles like in my zucchini lasagna, or in place of potatoes in this casserole. But I am telling you…you HAVE to try using zucchini in your desserts! This cake is SO moist and delicious!
Ingredients:
1 Tablespoon Olive Oil
1 teaspoon Garlic, minced
3 medium Zucchini, cut into rounds or half moon shapes
1 teaspoon Italian Seasoning
1/2 teaspoon Kosher Salt
1/2 teaspoon Cracked Black Pepper
1/3 cup Parmesan Cheese, shredded
Fresh Parsley, for garnish
Pinch Crushed Red Pepper Flakes, optional