Turkey Pot Pie Recipe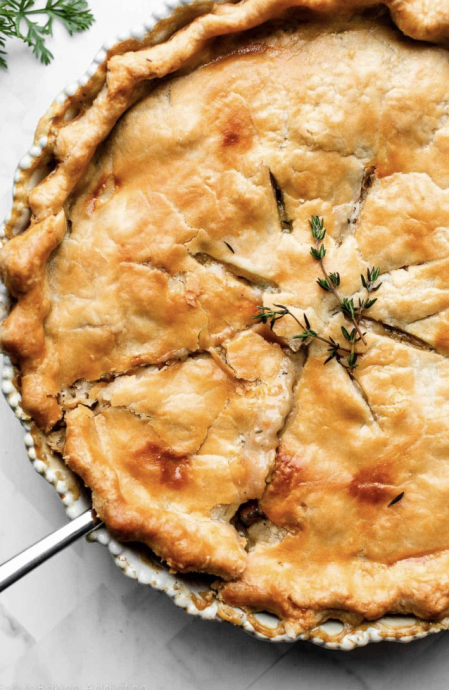 Turn leftover turkey into an entirely new meal with this turkey pot pie recipe. Vegetables and cooked turkey come together in a creamy herbed gravy, and it's all topped with a buttery golden pie crust. This base recipe can be customized to your liking with ingredients you have on hand, and you can use pre-cut, leftover, or frozen vegetables to save time. Maximum comfort food for minimal effort!
Every fall season, I try to find a few recipes to use up leftover cooked turkey or chicken. (You know, after we've had our fill of turkey sandwiches!!) Pot pie usually comes to mind first because it's always a satisfying, crowd-pleasing choice.
Ingredients:
1 unbaked pie crust (what I used) or all butter pie crust*
3 Tablespoons (43g) unsalted butter
1/2 cup (65g) chopped yellow onion (1/2 of a medium onion)
1 cup (120g) sliced or diced carrots (1–2 large carrots or a handful of baby carrots)
1 cup (120g) sliced or diced celery (2–3 stalks)
1 cup (120g) roughly chopped mushrooms
3 garlic cloves, minced
1/4 cup (31g) all-purpose flour (spoon & leveled)
1 teaspoon salt
1/2 teaspoon fresh ground pepper
1 teaspoon dried thyme leaves
1/2 teaspoon finely chopped dried rosemary (or more thyme, or dried sage)
2 cups (480ml) chicken broth/stock or turkey broth/stock
1/2 cup (120ml) whole milk
1 cup frozen peas (or other vegetable add-in, see Note)
3 cups (370g) chopped or shredded cooked turkey (or chicken)
egg wash: 1 large egg beaten with 1 Tablespoon milk