Authentic Puerto Rican Rice and Beans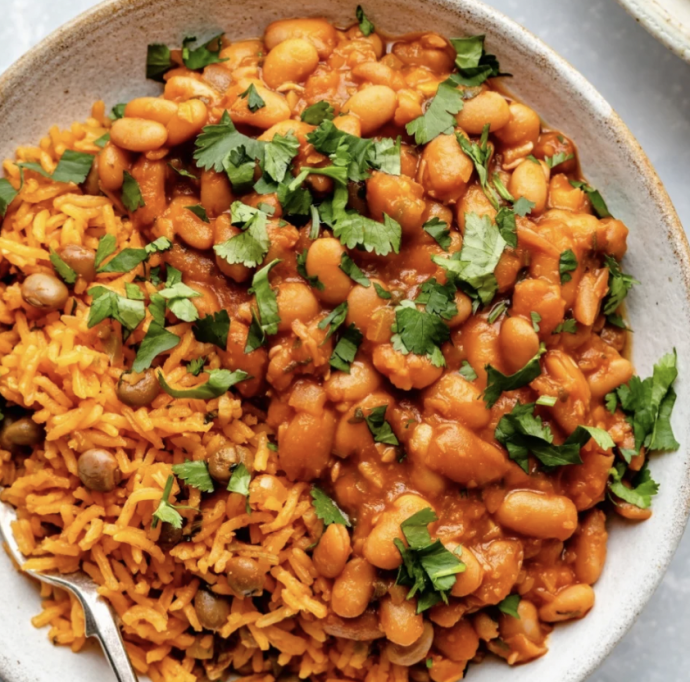 authentic Puerto Rican rice and beans with savory homemade sofrito and sazon! You'll love this incredibly flavorful, comforting homemade meal that will fill your home with unbelievably delicious smells. The perfect recipe to serve a crowd or just savor leftovers for a few days!
Dried pink or pinto beans: You'll need dried pinto or pink beans (my mom loves pink and I love pinto), the choice is yours. I had a really hard time finding them (even in Chicago), but if your store has a Hispanic section, you might be in luck.
Green pigeon peas: Green pigeon peas are INCREDIBLE and very, very good for you. Unfortunately, they can be difficult to find. I typically purchase in the Hispanic section of the grocery store (if they have it), head to our local Hispanic grocery store, or purchase off Amazon.
White basmati rice: This is our favorite kind to use because of how fluffy the rice gets. It shouldn't be that difficult to find, but please don't try and sub another rice. Or if you do, just know that cooking times differ. For instance, brown rice can take up to 45 minutes.
Ingredients:
For the beans:
1 pound dry pinto or pink beans, sorted and damaged beans removed (about 2 cups dried beans), soaked overnight for 6-8 hours, no longer
6-8 cups water or vegetarian broth
1-2 bay leaves
For the sofrito (for the beans):
2 teaspoons olive oil
½ cup finely diced yellow onion
½ cup finely diced green bell pepper
¼ cup finely diced cilantro
3 cloves garlic, minced
1 cup no salt added tomato sauce (from one 15 oz can -- reserve extra sauce for rice)
3 teaspoons (2 packets) Sazon Culantro ey Achiote* (see note in recipe for how to make your own)
For the rice:
2 teaspoons olive oil
1/3 cup finely diced yellow onion
1/3 cup finely diced green bell pepper
¼ cup finely diced cilantro
2 cloves garlic, minced
½ cup no salt added tomato sauce
3 teaspoons (2 packets) Sazon Culantro ey Achiote* (see note in recipe for how to make your own)
⅛ teaspoon adobo (or just a pinch)
1 (15 oz) can Goya Green Pigeon peas** (see note in recipe for a sub)
3 cups water
2 cups basmati white rice