Glazed Sweet Potatoes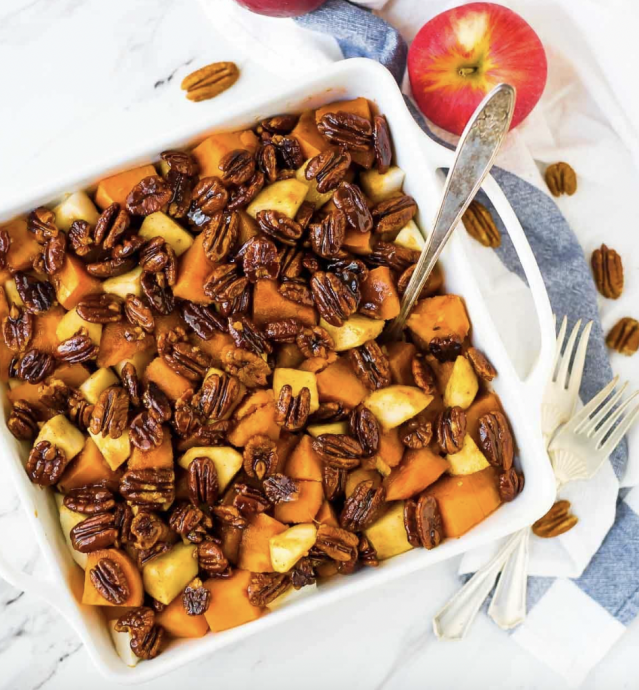 Honey Glazed Sweet Potatoes topped with delicious candied pecans will steal the show at your next gathering! The morning after Thanksgiving, and you'll catch me munching them cold out of the fridge, for good reason: they are nothing short of sensational. If you don't finish them right away, someone else will!
Unlike other candied sweet potato recipes, these are not overly sweet.
A shower of pecans on top adds toastiness, gourmet flair, and crunch.
Diced apples balance the sweet potatoes in both flavor and texture.
A pinch of cayenne makes them both spicy and sweet. And of course…
That splash of whiskey! It gives this dish a signature holiday vibe. I love glazed sweet potatoes as an elegant, delicious, and a fun alternative to classic sweet potato sides. If you are a fan of Roasted Sweet Potatoes, you'll adore them.
Ingredients:
3 pounds sweet potatoes about 4 large
1 cup roughly chopped pecans
2 tablespoons unsalted butter
2 tablespoons coconut oil
2/3 cup honey
3/4 teaspoon ground cinnamon
1/2 teaspoon ground nutmeg
1/4 teaspoon cayenne pepper a bit more if you like a good kick
1/2 teaspoon kosher salt
1/4 cup whiskey see notes section for brand recommendations
2 cups peeled, cored, and 3/4-inch-diced tart, firm baking apples such as Granny Smith or Cortland (about 2 medium or 3 small)