Vanilla-Pear Holiday Punch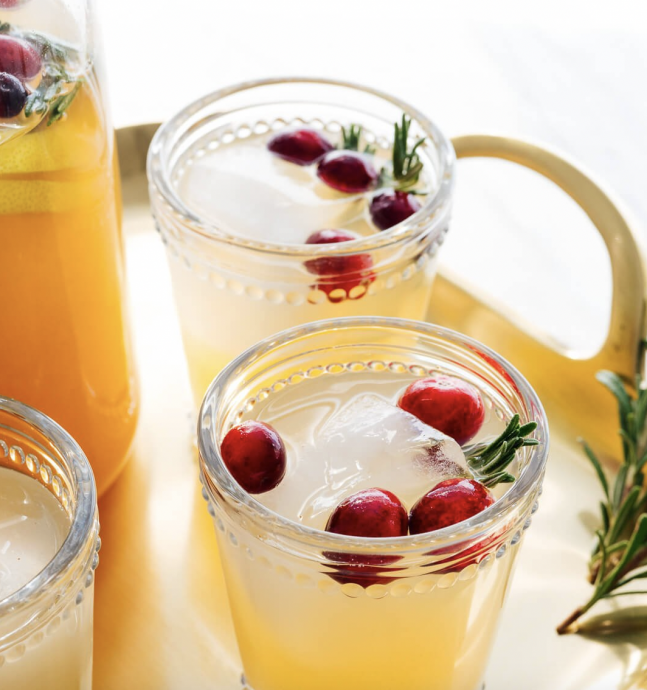 This holiday punch is unlike any I've ever had, and I think you're going to love it. It's not too sweet. It tastes like pear, vanilla, spice and everything nice. It's a smooth, easy sipper, even with tequila inside. Yep, tequila!
This pitcher of cocktails was inspired by an oldie but goodie, my Pear Nectar Cocktails with Reposado Tequila. That cocktail is proof that simple ingredients can yield a delightfully complex cocktail. If you're just making one or two drinks, follow that recipe instead.
You won't need any fancy liqueurs for this holiday punch recipe, just some pear juice, reposado tequila, plus a few basic ingredients—lemon juice, club soda, cinnamon, and vanilla extract.
Ingredients:
¼ teaspoon ground cinnamon
24 ounces (3 cups) pear juice or pear nectar (I like Ceres or R.W. Knudsen brands)
12 ounces (1 ½ cups) reposado tequila (I like Espolón or Milagro)
8 ounces (1 cup) club soda or sparkling water
4 ounces (½ cup) lemon juice
1 to 2 tablespoons honey simple syrup*
½ teaspoon vanilla extract
Suggested garnishes: Lemon rounds, short fresh rosemary sprigs, ½ cup fresh cranberries
Ice cubes, for serving