Healthier Gingerbread Cookies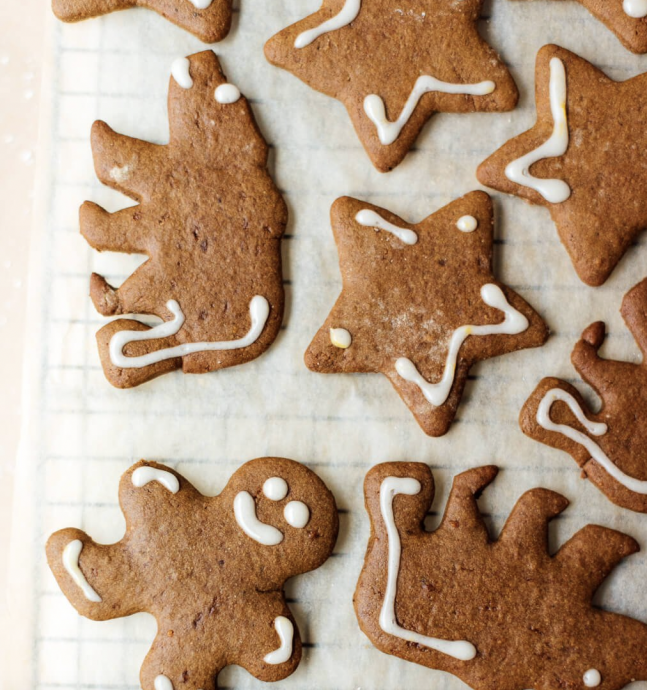 Too soon for gingerbread cookies? I hear everyone who put up their Christmas tree this weekend shouting, "No!" These are for you, my cinnamon candle-burning, Nat King Cole-playing friends. I appreciate your enthusiasm.
I usually get all bah-humbug Christmas baby this time of year, since the holiday completely overshadows my December 25th birthday if I'm not careful. I'm already planning my 30th birthday celebrations (with help, thankfully!) and have resolved to embrace the holiday cheer this time around. I might even put up a Christmas tree. A tiny one, with white Christmas lights. That sounds lovely.
Ingredients:
Cookies
3 cups (310 grams) whole wheat pastry flour*, plus more for work surface
2 teaspoons ground ginger
2 teaspoons ground cinnamon
¾ teaspoon kosher salt
½ teaspoon ground cloves
½ teaspoon finely ground black pepper
½ teaspoon baking soda
¼ teaspoon baking powder
½ cup melted coconut oil
½ cup unsulphured molasses (use regular molasses for lighter, somewhat spicy cookies or blackstrap molasses for very spicy, intensely flavored cookies—or a mixture of both)
½ cup packed coconut sugar
1 large egg
Powdered sugar, for dusting (optional)
Lemon icing (optional)
½ cup powdered sugar (here's how to make your own)
¼ teaspoon lemon zest (optional, for intense lemon flavor)
2 ¼ teaspoons lemon juice