Easy Apple Pandowdy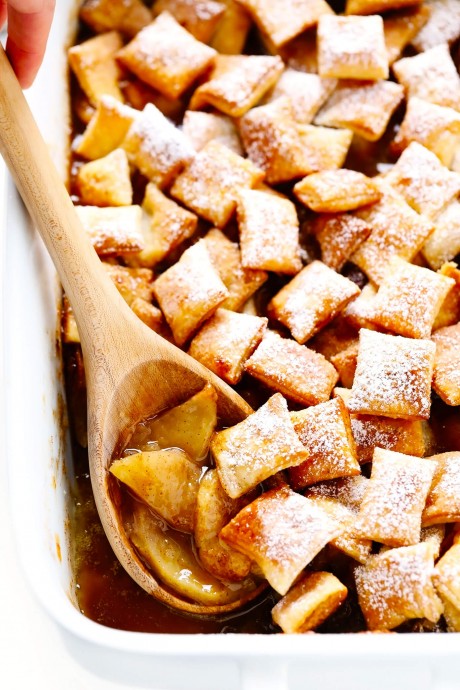 This Easy Apple Pandowdy recipe is made with the yummiest baked apple pie filling topped with toasted puff pastry bites and a light dusting of powdered sugar. All of the great flavors of apple pie…without all of the work required to make a pie!
This old-fashioned dish is said to have originated in the Pennsylvania Dutch tradition, years ago from Martha Stewart. Details about the exact heritage of this dish seem to be a little fuzzy. But traditionally, apple pandowdy is usually made a baking dish (or cast-iron skillet) with bite-sized pieces of pie dough sprinkled on top of a cozy cinnamon apple filling. Everything bakes up together in the oven to toasty, bubbly, sweet perfection.
It's all exactly as delicious as you would imagine. And so much quicker and easier to make than apple pie!
I use fluffy puff pastry as an apple pandowdy topping and a few extra chai-inspired spices to the apple filling to make it extra-special. This recipe would also work deliciously with pears instead of apples. Or you are welcome to add in some fresh cranberries to go with the apples (or pears) too. If you would really like to indulge, this apple pandowdy would be delicious drizzled with some warm caramel sauce. For anyone else who might be interested in an apple pie-ish recipe this holiday season that requires a bit less work, here's the pandowdy version that we have been loving lately. I think you're going to love it too!
Ingredients:
1 (14-ounce) package frozen puff pastry
4 pounds Granny Smith apples (about 8 apples)
juice and zest from 1 lemon
1/2 cup packed brown sugar
1/4 cup melted butter,* divided
3 tablespoons all-purpose flour
2 teaspoons ground cinnamon
2 teaspoons vanilla extract
1 teaspoon ground cardamom*
1 teaspoon ground ginger
1/2 teaspoon fine sea salt
1/4 teaspoon each: ground cloves and ground nutmeg*
powdered sugar