Best Bolognese Sauce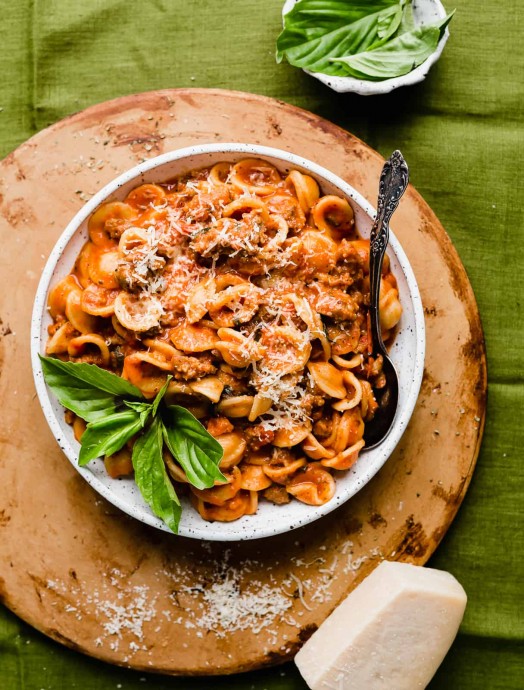 This classic Italian bolognese sauce is thick, creamy, and packed with so much flavor. Filled with your favorite Italian spices such as basil, oregano and nutmeg (yes, nutmeg), this authentic bolognese pasta sauce will make you feel like you are right in the center of Bologna, Italy!
The key to making the best pasta sauce is letting it simmer for hours and hours. This creates a thicker and more flavorful sauce. However, I simply don't have hours and hours to simmer my pasta, and you most likely don't either. The good news for you is this recipe takes just 40 minutes to make and tastes like it's been simmering all day. And I recommend using good quality tomato paste. This creates a thicker consistency to the sauce and a deeper tomato flavor. Don't forget the Italian sausage! You may think you can just use all ground beef instead, but I promise the flavor with the Italian sausage is next level. However, if you want to tone down the sausage you can use all ground beef or 8 oz ground beef and 8 oz Italian sausage.
Fresh basil is much, much more flavorful than dried so I recommend that. Leftovers can be stored in the fridge in an airtight container for 1 week.
Ingredients:
1 tablespoon olive oil
16 oz Italian sausage – casings removed
4 garlic cloves – minced
1 tablespoon dried oregano
1/4 teaspoon crushed red pepper flakes – if you're really sensitive to heat and you don't want any "kick" in the sauce, reduce to 1/8 tsp
1 cup chicken broth
28 oz crushed tomatoes
2 tablespoons tomato paste
1/2 tablespoon kosher salt
1 teaspoon freshly ground black pepper
1 lb pasta – small noodle such as small shell or orecchiette
1/4 teaspoon ground nutmeg
1/4 cup fresh basil – chopped and lightly packed
1/3 cup heavy cream
2/3 cup grated parmesan cheese
1/2 cup reserved pasta water – to make the pasta more saucy at the end