Baked Pork Tenderloin with Potatoes and Gravy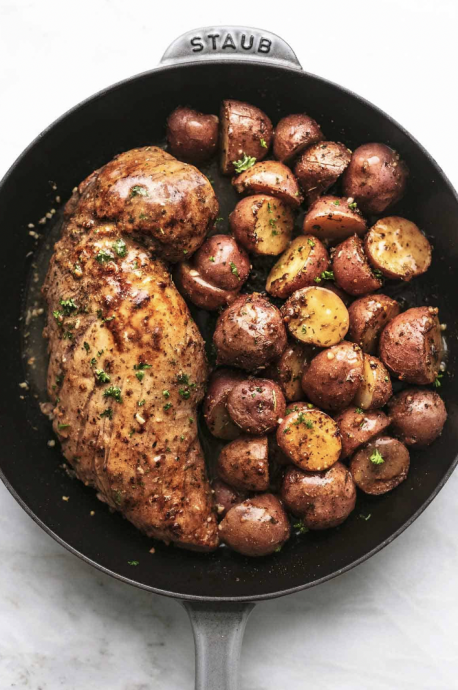 Got one hour and one pan? Good, because this baked pork tenderloin with potatoes and gravy could easily be your next delicious dinner! All you need is a skillet, a few pantry ingredients, and 60 minutes to serve up this buttery, garlicky, tender pork and potatoes meal!
No oven safe skillet? No problem. What you can do is use a regular large skillet and then when it's time to pop it in the oven, transfer the contents to an oven-safe baking dish or rimmed baking sheet for the oven portion of the recipe. Pour the liquid into a saucepan or back into the skillet to thicken at the end before serving gravy over baked pork tenderloin and potatoes.
You know what makes the potatoes even better? Cheese! That's right, add a sprinkle of grated parmesan cheese (or more, no judgement here!) to the potatoes right before serving to add a little extra oomph and tastiness!
Have leftovers? They'll keep just fine in the fridge for 3-4 days or in the freezer for up to 3 months.
Ingredients:
1 ½ pounds pork tenderloin
1 tablespoons + 2 teaspoons olive oil - divided
2 teaspoon salt - or to taste, divided
½ teaspoon cracked black pepper - or to taste, divided
3 teaspoons Herbs de Provence - or Italian blend herb seasoning
2 teaspoons garlic powder - divided
2 tablespoons butter - divided
1 pound baby red or gold potatoes - halved or quartered into 1-inch pieces
1 ½ cups chicken broth - divided
2 tablespoons corn starch